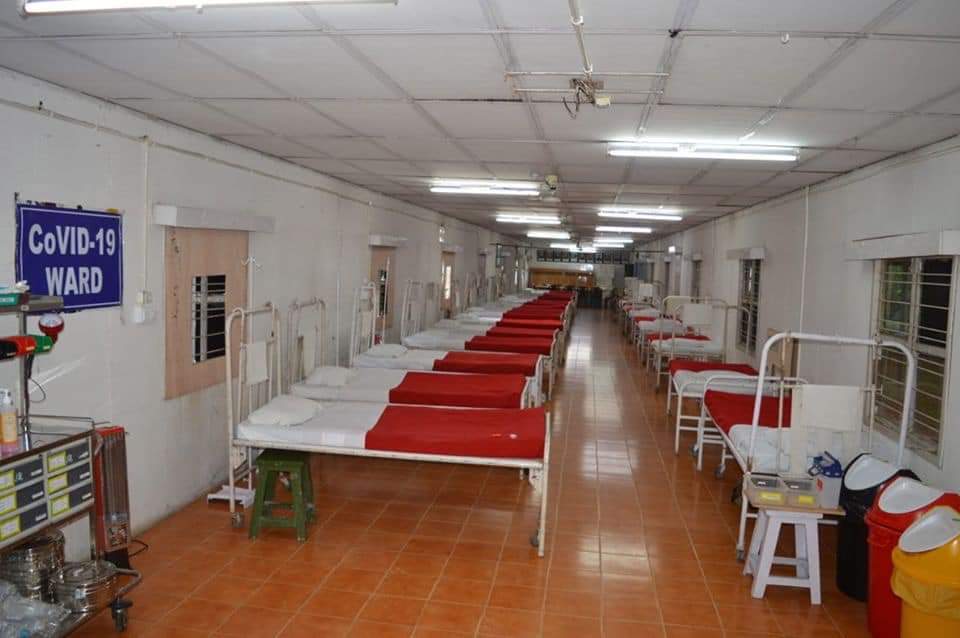 Srinagar, June 25: Jammu and Kashmir on Thursday reported 127 fresh covid-19 infections and included ten CRPF personnel, an army soldier, a doctor and two policemen. The fresh cases which include 20 travelers, take the covid-19 tally in J&K to 6549.
Giving the district-wise break-up of the cases, sources said that 35 were reported from Kulgam followed by Srinagar (33), Baramulla (15), Shopian (12), Kupwara (9), Ganderbal (6), Jammu (4), three each in Bandipora and Rajouri, Samba (2) besides one each from Doda and Reasi.
Sources said that among the cases, at least 69 were confirmed at SKIMS Soura, 28 at CD and 19 at SKIMS Bemina.
Dr. G H Yatoo, Nodal Officer Coronavirus Control Measures at SKIMS told GNS that out of 1472 samples processed at the viral diagnostic lab today, 69 returned positive for the virus.
Professor Farooq Jan, Medical Superintendent SKIMS Soura, said that 16 each are from Shopian and Kulgam, 10 each from Srinagar and CRPF Battalions, five from Ganderbal, four from Bandipora, three each from Baramulla and Anantnag besides one each from Ramban and Rajouri.
He said that Shopian cases are from Kachdoora (f-33), Lawahind (40-male), Chitarwachi (f-42, m-45), Kngnoo (m-70), DC office (25-m), Herman (m-34, m-55), Kharwara (29-m), Khajapora (m-38, m-67), Awneera (m-34), Kulgam Shopian (m-32, m-21), Hangul Buch (m-65) and Sangram Check(m-58).
Kulgam cases are from Hampathri (m-32), Watigam (f-30), Dharam (m-38), Khull (m-32), Frisal f-28), NS Pora (f-25), Kulgam(f-30), Y Pora (f-25, f-43, m-29), Kachohalam (f-32), Chancer (m-6), K-Haller (m-6), 10 from CRPF (18th battalion, 167 batallion, 08 batallion) and HP Bagh (f-26 and male-28). The Ganderbal cases include four from Theru (f-65, f-40, f-12, f-11) and 53-year-old male from Ajis Bandipora.
The cases taken and confirmed from SKIMS are from Sopore, Nowpora Srinagar (including a 48-year-old doctor), Nawabazar, Qazigund, Tangmarg, Sundarbani and Baramulla while cases which were received from CMO Srinagar are from Harwan; those from CMO Bandipora are from Papchan and Onagam and Annatnag cases are from Qoimoh and Sadoora.
Dr Riyaz Untoo, Principal SKIMS Bemina, said that out of 516 samples processed at the hospital's lab, 19 tested positive for COVID-19, 16 from Srinagar and three from Budgam.
The Srinagar cases include males (37, 45) from Zewan, female (21) and male (33) from Soura, male (59) from Batmaloo, male (34) Police complex Zewan, six including a female (40) and males (8, 12, 16, 70, 76) from Nishat Syed Colony, female (9) from Safakadal, male (23) from Nowshera, female (40) from Zoonimar and male (37) from Rainawari while Budgam cases include female (26) from Lalgam, males (34 and 60) from Chadoora.
Out of the cases confirmed at CD hospital lab includes a 23-year-old soldier from BB Cant Srinagar and a policeman-45-year-old—from DPL Baramulla.
Meanwhile, officials said that 149 more COVID-19 patients have recovered and discharged from various hospitals—39 from Jammu Division and 110 from Kashmir Division. As per officials, there are 2492 active positive cases—470 in Jammu and 2022 in Kashmir while 3967 have recovered while 91 others have died. (GNS)