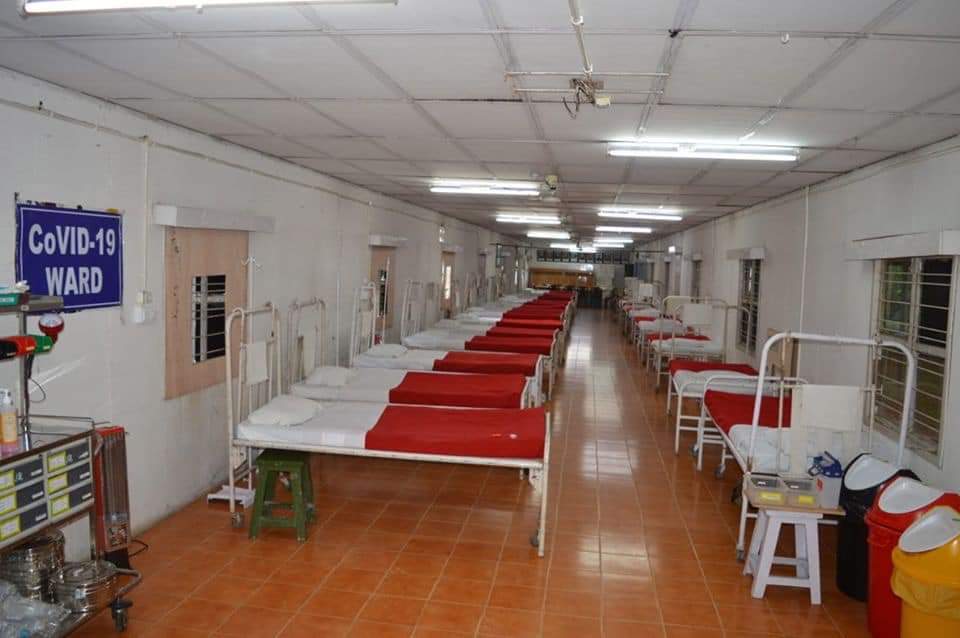 Srinagar, June 17: With 2 more deaths and 108 fresh cases of novel corona virus reported in Jammu and Kashmir on Wednesday, the total number of positive case has moved up to 5406 and the total number of fatalities have reached upto 65.
Among the two deaths one is a 65-year-old man from Shopian and another a 70-year old from Baramulla who succumbed at SKIMS Soura and SMHS hospital here, taking the fatality count due to the virus in J&K to 65.
Among the total deaths seven are from Jammu and 57 from Kashmir valley. Srinagar district with 15 deaths has the highest fatalities followed by Baramulla 12, Kulgam (eight), Shopian (seven), Anantnag (six), Kupwara (five), Jammu (four), Budgam (three), Pulwama (two) while one death each has been reported from Bandipora, Doda, Udhampur and Rajouri
Hospital sources said that the sexagenarian from Feripora area of Shopian was admitted on June 15 with complains of fever, shortness of breath with a diagnosis of Acute exacerbration of Chronic Obstructive Pulmonary Disease (COPD).
"The patient was on non invasive ventilation as his attendant (son) had given negative consent for intubation," he said.
The man died at 04:15 a.m. with cause of death being cardiopulmonary arrest, he added.
Meanwhile, 70-year-old resident of Khanpora died of the disease at SMHS hospital here.
Confirming it, Deputy Commissioner Baramulla Dr G N Itoo said that the septuagenarian, a resident of Khanpora had bilateral pneumonia. "He was admitted to SMHS hospital on June 15 and died today," he added.
Meanwhile 108 cases of COVID-19 have emerged in J&K today taking total number of positive cases to 5406.
Giving district wise breakup, officials said that 27 cases were reported from Shopian followed by seventeen each in Srinagar and Udhampur, Kupwara (9), seven each in Kulgam and Baramulla, Budgam(5), Anantnag (4), three each in Rajouri and Reasi, two each in Bandipora, Pulwama and Ramban besides one each in Kathua and Samba.
Dr. G H Yatoo, Nodal Officer Coronavirus Control Measures at SKIMS said that out of the 2144 samples processed at the viral diagnostic lab today, 58 returned positive for the virus.
Professor Farooq Jan, Medical Superintendent SKIMS Soura said among them 32 were reported from Shopian, six from Kulgam, five from Srinagar, four from Anantnag, five from Baramulla, two each from Bandipora and Kupwara besides one each from Pulwama and Ganderbal.
He said the cases from Srinagar include three CRPF men from 79 and 144 battalions besides a 15 days old baby from Bemina and one woman (38) from Ishber Nishat.
One case reported from Pulwama pertains to a soldier 42 R R Satura while four cases from Anantnag include one male (70) from Veer, one male (55) from Hiller Arhama, a female (30) Akoora Mattan and one Male (40) from Mirmaidan Dooru.
The two cases Bandipora are: A female (36) from Bonakoot and a 6-year-old boy from Baduab.
The Kulgam cases include Gadiharna: 01 female (30); Dingowari: female (28); Khargund: 01 female (29); Kishgund: 01 female (30); Kulgam: 01 Male (80) and 01 female (32).
The four cases Baramulla include Zainpora: 01 Male (36); Panjipora Sopore: 01 female (30), 01 male (14); Chinkipora Sopore: 01 Male (45)
The two 02 cases Kupwara include 01 Male (28) from main Kupwara and 01 Male (51) from Nowgam.
The 32 cases from Shopian include: DK pora Shopian: 01 Male (55); Reshipora: 02 females (35, 15), 01 male (07); Therin kandi: 01 Male (70), 03 females (67, 33, 14); DPL Shopian: 02 males (32,34); Nowpora: 01 female (30); Shopian: 01 Male (35); Shahlatoo: 01 female(50), 03 males (50, 11, 40); Kadgam: 03 males (68, 28, 53) ; DC Shopian: 01 Male (54), K-Ullar: 03 males( 25, 25, 35), 03 females (30, 18, 30); Gaddipora: 03 males (30, 35, 35)and Sedow Shopian: 03 females (10, 05, 04).
Eighteen cases were reported from CD hospital's lab and include CD: Awantipora: 01 Male (48); Mirgund Srinagar: 01 Male (70); Sakidafar Srg: 02 females (40, 02), 01 male (04); Kupwara: 01 Male (85); Baramulla: 02 Males (70, 50) Shopian: 01 female (55); Okey: 01 female (29); Hayan: 01 female (25); Tangdar Karnah: 02 males (34, 06) and 02 females (33, 60); Handwara: 01 Male (40); Mandigam Langate: 01 female (25) and Sultanpora: 01 Male (33).
Dr Riyaz Untoo, Principal SKIMS Bemina said that out of 565 samples processed at the hospital's lab, 13 tested positive for COVID-19 and include seven from Srinagar and six from Budgam.
The Srinagar cases include two male (66) from Mujgund, a female (25) from Khanyar, two male– (63 & 26) and two females (38 and 56) from Mandibal Nowshera besides an 18-year-old youth from Bemina.
The Budgam cases include: male (23) from Kawasoo, female (26) from Attini Beerwah, female (28) from Gomboora, male (28) from Hardsursh, male (4) from Panditpora Tangmarg and a male (4) from CISF Airport.
Meanwhile, the government said 133 more COVID-19 patients have recovered and discharged from various hospitals. (GNS)