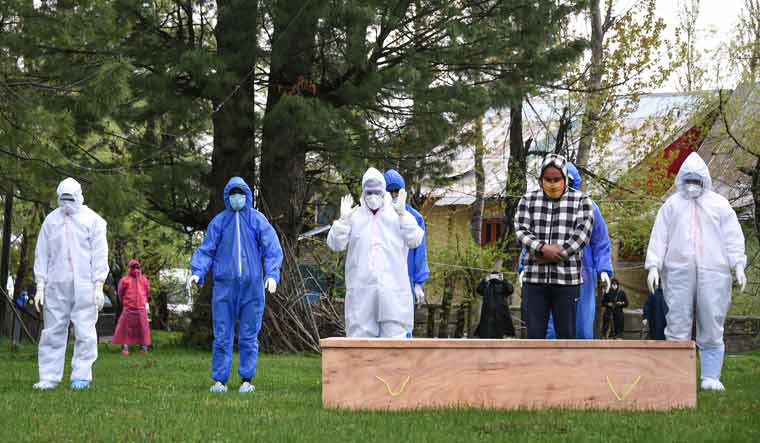 Srinagar, June 9 : Kashmir Valley on Tuesday reported second death due to the novel coronavirus as a 70-year-old covid-19 patient from Panzath village in Qazigund area of south Kashmir died at GNC Anantnag, taking the overall death toll in J&K to 48.
"He was suffering pneumonia. His test for covid-19 had returned positive few days ago," Medical Superintendent Government Medical College Anantnag, Dr Majid Mehrab, said . Panzath village falls under medical block Kulgam, the sources said.
Earlier, a 52-year-old man, who was an auto driver by profession died at Srinagar's CD hospital, one of the exclusive facilities meant for the management of covid-19 in the Valley.
A family member of the deceased said that the 52-year-old man met with an accident on May 19. "He was admitted to SMHS hospital and two days ago his sample for the covid-19 returned positive and was shifted to CD hospital," the family member said, adding, "He died at 5 a.m. today."
Deputy Commissioner Baramulla Dr G N Itoo also confirmed the man's death due to the virus. "He had rib injury and rupture in the windpipe and was on ventilator. He was tested twice at SMHS for Covid-19 which turned negative. His 3rd test turned positive two days before. It seems he was infected at Hospital only," he said, adding, "He was attended by 3 members of family who were always in PPE gear but they have been put in quarantine as precautionary measure. He will be buried under covid19 protocol at Sopore."
With the fatalities, the death toll due to the pathogen has risen in Jammu and Kashmir to 48—43 from Valley and 5 from Jammu division.
So far Srinagar district with 12 deaths due to the virus has the highest fatalities, followed by Baramulla nine, Anantnag six, Kulgam six, three each in Shopian, Kupwara and Jammu, two in Budgam while one death each has been reported from Pulwama, Bandipora, Doda and Udhampur. (GNS)