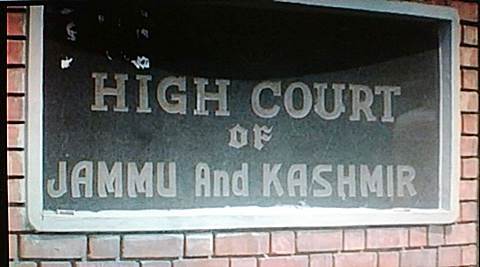 Snagar, May 05: Jammu and Kashmir High Court on Tuesday asked government of India and J&K to take "considered decision" on the continuation of the 148-year-old practice of "Darbar Move" while questioning whether any Government can afford the annual expenditure of at least Rs.200 crores to sustain and perpetuate an arrangement of bi-annual shifting of its Capital two times a year.
In this regard a division bench of Chief Justice Gita Mittal and Justice Rajnesh Oswal directed Secretary, Ministry of Home Affairs, Government of India, and Chief Secretary of J&K to place its judgment before the competent authorities "for examining the issues raised and taking a considered decision thereon."
In the 93-page judgment, the division bench also questioned whether the practice started in 1872 by the then Maharaja can be acceptable in a "hopelessly fiscally deprived UT" with severe underdevelopment and people deprived of bare basics which are essential part of their fundamental right of life guaranteed under Article 21 of the Constitution of India.
"In this judgment, we have recorded our reasons and judgment on the several aspects which arise on account of the implementation of the Darbar Move in the Union Territory of Jammu and Kashmir including Constitutional and legal implications and consequences thereof, taking into consideration the provisions of the Constitution of India and binding judicial precedents of the Supreme Court of India," the court said.
In recording the judgment, the court said, "we have had to rely upon disclosures by the Government of the details of the cost of the Darbar Move only on some of the steps taken towards it."
The court said that it has also noted the several steps on which it have no information at all, say, for instance, the cost incurred on the security forces and the police utilised for ensuring the Darbar Move and the huge burden to the public exchequer on the moneys spent on the security and the biannual maintenance, repairs and housekeeping of empty government properties, official and residential."
The court had framed several questions to adjudicate upon in the suo-moto case including the origin of this arrangement; its perpetuation; the manner of implementation thereof; the expenditure thereon; its impact on the judiciary; on the people, administration and governance; government employees; the human and social cost thereof amongst other critical issues, is what which we are called upon and propose to examine in this judgment"
The court also "examined whether emotional rhetoric of groups of people can override public interest, imperative considerations of efficiency in governance, continuity in administration, concerns of access to justice, the entitlement to the guaranteed rights under Part III of the Constitution."
It also framed question whether the "bindingness of the arrangement given the fact that it did not originate from considerations of public welfare, good governance or any needs of efficiency in administration."
It added: "We are required to examine the propriety of the perpetuation of the arrangement which cannot be sourced to any Constitutional or legal provisions. We conduct this examination, conscious of and within the limitations on our power of judicial review." (GNS)