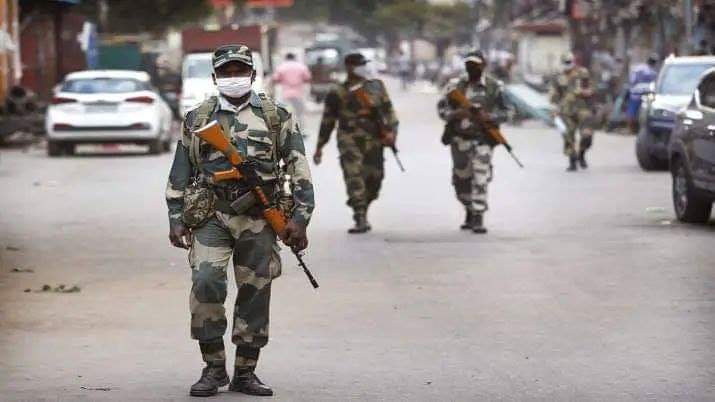 Srinagar, May 04: At least three paramilitary CRPF men were kileld while seven other sustained injuries, some of them critical after suspected militants mounted an attack on CRPF naka party at Wangam area of Qaziabad Handwara in north Kashmir's Kupwara district, officials said.
A differently abled boy was also killed during the incident.
According to the reports, suspected militant attacked 92 battalion CRPF (A Coy) patrol party at Wangam at around 5:32 pm.
During the attack, two CRPF men were killed on the spot while several others suffered injuries and later one among them succumbed to his wounds on way to the hospital.
The paramilitary troopers retaliated and the exchange of fire continued for around five minutes, they said.
As the guns fell silent, one more body was spotted, around half a kilometre from the shootout site. The dead was identified as a 14-year-old boy Hazmi Shafi Bhat, a student of 7th standard, of Khipora village.
"He along with other boys in the area had taken animals for grazing. While others fled, he could not as he was physically handicapped. He could not even properly talk and would occasionally fell down," Mohammad Rayeez, his immediate neighbour told GNS.
His uncle Haji Ghulam Mohammad Bhat said the body of 14 year old was found near the site of the gunfight which is almost half a kilometre from his residence.
The family termed reports dubbing him as militant as "very unfortunate." "He could not properly walk or talk. How can he be a militant," Bhat said.
CRPF spokesman Kashmir Assistant Commandant Junaid Khan told GNS that militants attacked the CRPF party at Wangam. "In the attack, three CRPF men were killed, two of them on the spot and another on way to the hospital," he said.
The officer identified the CRPF men killed in the attack as Constable Santosh Mishra, Constable Chandra Shekhar and Ashwani Kumar Yadav.
CNS quoting unnamed police officials reported seven CRPF troopers were left injured.
Soon after the attack, additional reinforcement of army, SOG and CRPF rushed to the spot and launched a massive search operation to trace out the fleeing militants.
When reports last came in, the search operation was going on in the area. (GNS)