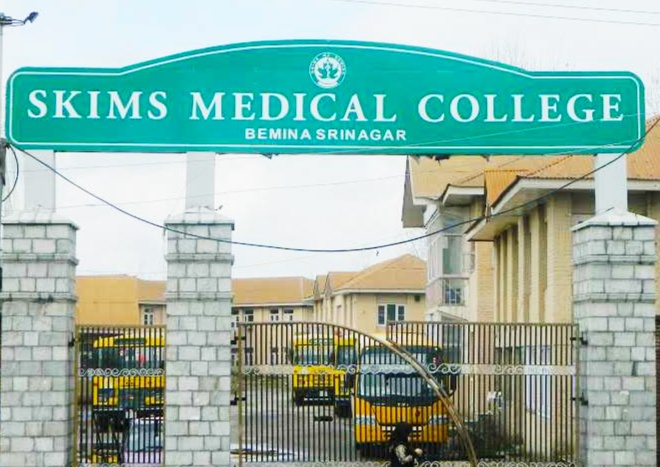 Srinagar May 3: SKIMS Medical College Bemina Principal Dr Reyaz Untoo has elevated a contractual resident doctor to the top post of Officer in-charge Drug and Pharmacy.
Dr Numan Wani a contractual resident doctor, was elevated to the position to replace senior faculty Associate Professor ENT Dr Asif Wani, who assumed the charge of Head of the department.
"Consequent upon Dr Asif Ahmad Wani Associate Professor Department of ENT assuming the charge of Head of the Department via order no. 218 SKIMS MC of 2020 dated 30-04-2020, Dr Numan Wani resident I/C Drug and Pharmacy shall hold the charge of officer in-charge Drug and Pharmacy till further orders in the interest of administration keeping in view of Covid-19 pandemic," reads an order issued by Untoo on April 30.
Wani is working as resident doctor at SKIMS Bemina on contract basis for past five years.
According to his Linkedin profile Wani did his MBBS from Bukovinian State Medical University, Ukraine in 2008.
The decision has angered the  faculty of SKIMS Bemina as they are expressing shock as to how a junior resident was elevated to the senior faculty post.
"It is a clear case of nepotism," said a faculty member at SKIMS Bemina who wanted to remain anonymous.
"Associate Professor's charge should have been given to another Associate Professor or any faculty member. How can the charge be given to a junior resident, that too who is working on adhoc basis," said a faculty member on condition of anonymity.
"We expect an end to political meddling in the affairs of health institutions during present dispensation. Unfortunately, a guy enjoying political patronage is being awarded".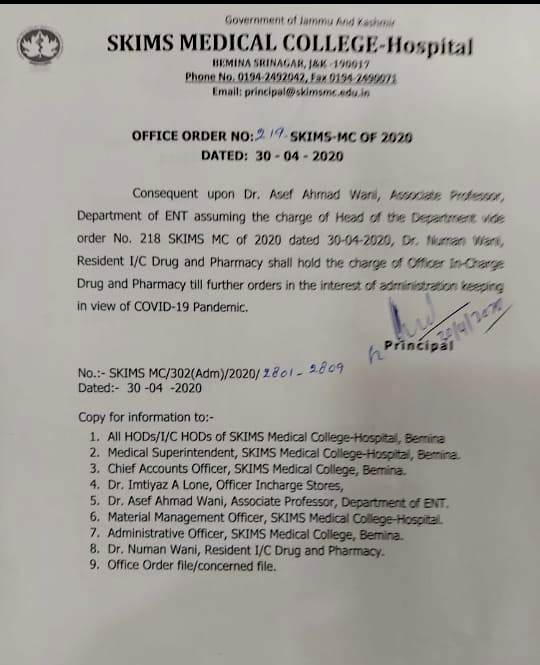 While talking to The Kashmir Press, SKIMS Medical College Bemina Principal Dr Reyaz Untoo, rubbished assertions that a resident doctor can not hold the post of Officer in-charge Drug and Pharmacy.
"He (Dr Numan) hasn't replaced him, but rather we have six posts of CMO's and all are resident doctor's. In every hospital medical in charge store used to be an MBBS doctor as per rule having minimum experience of three years," Untoo said.
"Actually the ENT head got retired, the second head replaced him, and moreover ENT has only two faculty members, so it is difficult for him to carry on both responsibilities that too amid Covid19 concerns. So, we have given these charges to a resident doctor because he is the only one having second seniority in pharmacy".
He further added that, "the APs work is not to take charge of in charge pharmacy, it is MBBS doctor who look for this".
Dr Numan Wani had also a stint with the politics. He had joined Peoples Democratic Party (PDP) on November 7, 2013 from his home constituency Amira Kadal in Srinagar.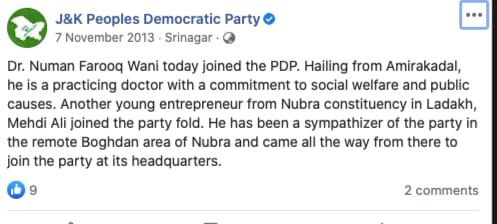 On joining PDP, he had said the party had right mix of a professional agenda, commitment to the people of the state and a leadership that had provided the best government model in Jammu & Kashmir.
He had said he along with likeminded young people look at politics as a means for changing the system which has in J&K always been used against the people.
SO far, the doctor has not issued a statement wether he is part of PDP, or left it.