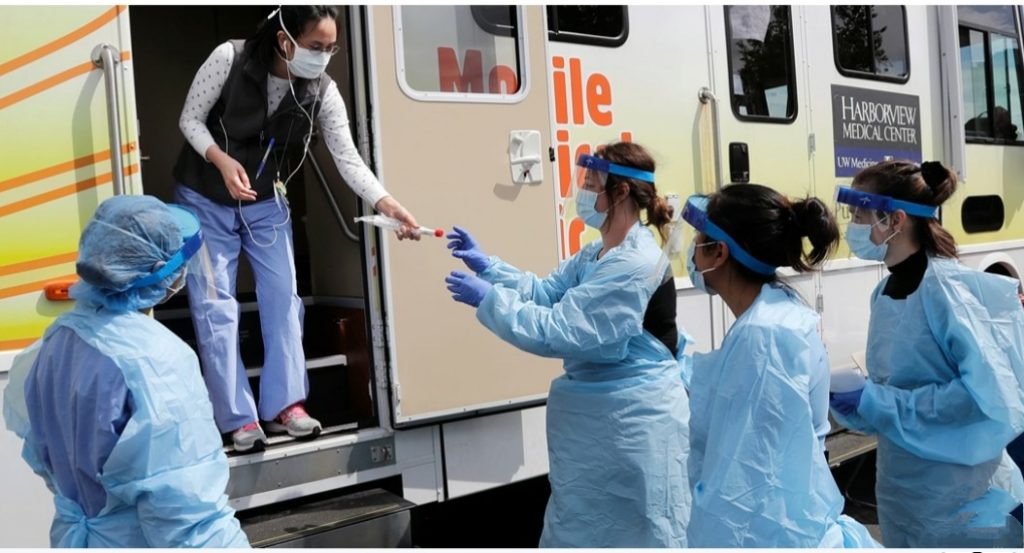 Srinagar: Thirty five persons were tested positive for the covid-19 in Kashmir on Sunday taking the total number of cases in Jammu and Kashmir to 701.
Rohit Kansal government spokesman while posting on a micro blogging app said, "finally J&K breaks the 2000 tests a day barrier. Over 2500 tests conducted in a day. New positives 35; Recoveries 33. Total Cases now 701( Kashmir 640, Jammu 61)."
According to official statemt on novel out of 701 positive cases, 406 are Active Positive, 287 have recovered and 08 have died.
Moreover, 33 more COVID-19 patients have recovered and discharged from various hospitals- 02 from Jammu Division and 31 from Kashmir Division.
The officials further said that out of 26038 test results available, 25337 samples have tested as negative till May 03, 2020.
Furthermore, till date 75838 travellers and persons in contact with suspected cases have been enlisted for surveillance which include 10751 persons in home quarantine including facilities operated by government, 183 in Hospital Quarantine, 406 in hospital isolation and 7104 under home surveillance. Besides, 57386 persons have completed their surveillance period.
Providing district-wise breakup, the statement said that Bandipora has 128 positive cases with 72 Active Positive, 55 recovered (including 19 recovered today), 01 died; Anantnag district reported 10 new cases which led to 109 positive cases with 107 Active Positive, 01 recovered,  01 died; Srinagar has 106 positive cases with 34 Active Positive, 70 recovered (including 01 recovery today),  02 died.
In north kashmir Baramulla reported  03 new cases today taking total number of positive cases to 91 with 54 Active Positive, 34 recovered ( including 08 recoveries today), 03 died; with 4 fresh cases today.
In South kashmir Shopian  has 81 positive, 62 Active Positive, 19 recovered; Kupwara has 66 positive cases with 11 cases reported today, 43 Active Positive, 23 recovered (including 02 recoveries today).B
Moreover Budgam has reported new 05 cases today thus taking total of positive cases to 26 wherein 14 are Active Positive and 12 recovered cases (including 01 today); Ganderbal has 14 positive cases and all of them have recovered; Kulgam has 11 positive cases with 08 Active Positive and  03 recoveries; Pulwama reported 01 positive case, thus district has 08 positive cases with 05 active positive, 03 recovered.
Similarly, Jammu has 26 positive cases and all of them have recovered; Udhampur  20 positive cases, 19 recovered (including 02 today)  and 01 died, while as Samba reported 01 new positive cases today taking total positive cases to 07 wherein 03 are Active Positive and 04 have recovered; Rajouri has 04 positive cases, 01 active positive and 03 have recovered;  Kathua has 01 positive case who is active positive; Kishtwar had only 01 positive case who has recovered; Ramban has 01 positive case who is Active Positive; Meanwhile, Reasi has 01 positive case who is Active Positive.