By Abid Bashir
Srinagar, Apr 23:  Strict restrictions to curtail the spread of Coronavirus pandemic from last over a month has forced cancellation and postponement of thousands of marriages in Kashmir valley, badly affecting people associated with the sector, which is already facing the brunt of the cascading impact of the last year's unrest.
The number of Coronavirus cases has crossed 350-mark while four people have lost their lives to the infection so far in the valley.
Strict restrictions on movement and assembly of people to curtail the spread of Coronavirus continued since March 18 in Kashmir valley, where thousands of marriage functions were cancelled or postponed due to situation in the first month of marriage season.
However, some people are conducting marriages in a simple manner and without even inviting family members and friends.
A groom, wearing protective gear, in Rambagh in uptown reportedly went to the house of the bride on a Scooty few days back. After the nikah, the couple came back to the residence of the groom on the Scooty.
In another incident, a groom in Zainakot went alone and brought home the bride after performing the nikah. Similar reports were received from other parts of the valley.
The marriages in the valley were no more a low key affair as the industry had grown exponentially during the last about a decade, making it one of the most revenue generating unorganised sectors with lakhs of people associated with it directly or indirectly.
An average cost of a marriage ranges between Rs 5 lakh to Rs 20 lakh while a high end marriage can cost upto over Rs 50 to Rs 1 crore in Kashmir. But as the situation remains uncertain in the valley in view of COVID-19 pandemic J&K, people are forced to cancel or postpone marriages, badly affecting the industry in the first month of the marriage season.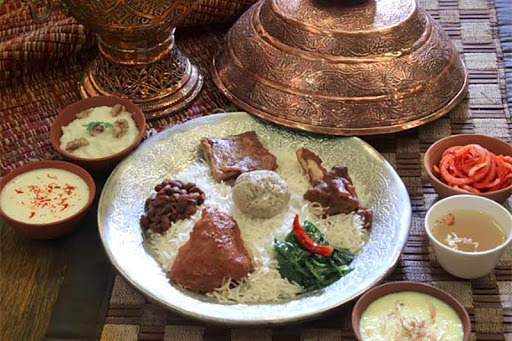 The industry has already suffered immensely last year, when the Narendra Modi-led National Democratic Alliance (NDA) government on August 5 scrapped Article 370 and Article 35 A, triggering massive outrage among people in the valley. Normal life in the valley was crippled for several months due to restrictions imposed by authorities and strike in 2019, forcing cancellation of marriages during the peak marriage season.
Top players of this industry claim that revenue to the tune of crores of rupees has been lost since August 2019 due to the cancellations of the functions, badly affecting lakhs of people associated with the sector, including caterers, cooks (wazas), butchers, decorators, bakers, disposable item dealers etc.
"The peak season of marriages is between July and September. But, the unrest in the valley badly affected the marriage industry as people were forced to cancel functions and other ceremonies. Due to these cancellations, lakhs of people lost their source of income while others, who had procured items required for these functions, were facing acute financial crunch," Shafiq Ahmad, owner of a catering company told UNI.
Ahmad said people were now hopeful that they will generate revenue this year and try to make up for the losses incurred last year. But, he said in the first month of the marriage season, all the marriages were cancelled or postponed. "…and uncertainty looms large in the coming months as well," he added.
Due to these cancellations, lakhs of people have lost their source of income while others, who have procured items required for these functions, are facing acute financial crunch as it is highly unlikely that they will be able to sell their products," Shabir Ahmad, owner of a catering company said. He said the most affected are sheep and chicken traders, who have procured the livestock from outside the state, in the hope of catering to the needs of the marriage functions.
Farooz Khan, a Kashmiri waza (cook) by profession, said that all the bookings, which he had received for preparing wazwan (Kashmiri cuisine) during marriage functions, have been cancelled.
Khan said people associated with the industry are already suffering as marriages in peak months of July, August, September and October last year were cancelled due to unrest.
"Last year, we were jam-packed till October first week, but all the bookings were cancelled due to the unrest. We only cook for marriage parties and as the functions were cancelled we were left with no work," Mr Khan said.
Last year, he said his team was able to make only 15 to 20 per cent of the money they usually make. Mr Khan said 'he was hopeful that the condition of the industry will improve this year, but it seems that the coming months are also tough for us'.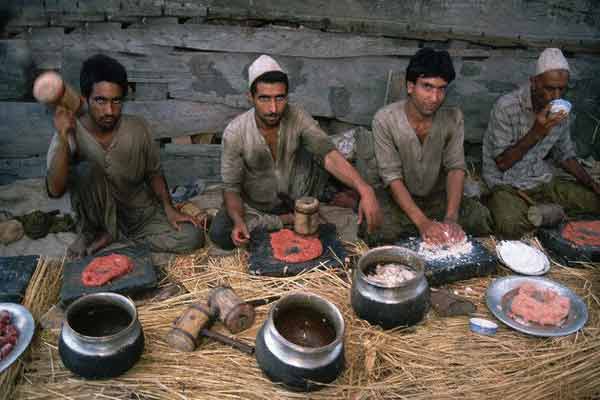 He said that like other Kashmiri wazas, he and his team (30 people), work only during these months and then have to spend the money earned for a whole year. "As we have earned less money as usual since August last year, it will be difficult to cater to the needs of our families," he added.
"We charge about Rs 20,000 per quintal of meat which comes to around Rs 80,000 if on an average four quintals of meat were utilised during marriage functions. So we earn a decent amount of money. But things are different this time," he said.
Similar views were expressed by others  associated with the industry. (UNI)