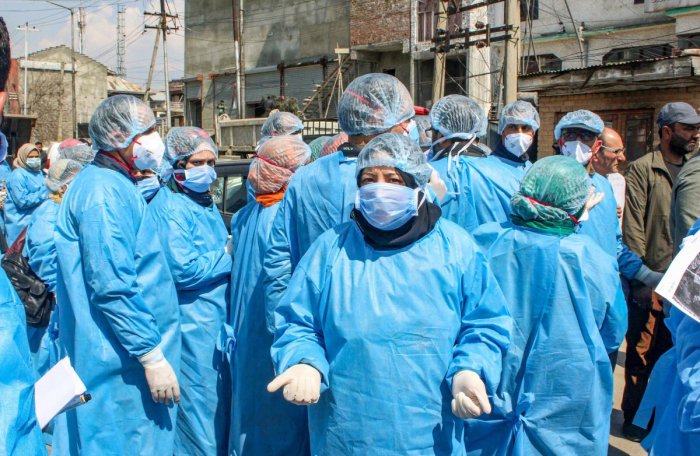 Srinagar: Jammu and Kashmir continues to witness surge in the Covid-positive cases as 27 more tested positive for the pandemic on Thursday taking the total number of cases to 434 in the Union Territory.
Officials said that  27 persons have tested positive in J&K of which  26 are from Kashmir division and one from Jammu division. They further added that among 434 total positive cases, 377 are from Kashmir division and 57 are from Jammu division.
Officials said among new 26 cases in Kashmir division, nine are from Shopian, seven from Anantnag, four from Kupwara, three from Baramulla, two from Bandipora and one from Budgam district while as one case has been reported at Ramban in Jammu division. They added that 18 samples were tested positive at SKIMS, eight at CD hospital Lab and other at GMC Jammu.
Officials from Kupwara said that new positive four cases are contacts of already positive patients and 84 samples were tested negative in district today. They further added that total number of positive cases in district are now 41 with 6 recoveries.
Officials from Baramulla said that wife of already tested positive doctor besides a woman from old Town Baramulla and a resident of Uri are among three tested positive from Baramulla on Thursday.
Nodal officer for covid-19 at SKIMS told KNO that 18 persons were tested positive today at SKIMS adding that four persons were discharged from the Institute after their complete recovery.
Dr Saleem Khan Nodal officer for Covid-19 told KNO that in last 24 hours eight persons have been tested positive at CD hospital Lab, among them one is from Baramulla while as 7 are from Shangus, Anantnag. He further added that 235 samples were tested at the Lab in last 24 hours and on Thursday 300 more samples were received.
Dr Tabasum Deputy Medical Superintendent at JLNM told KNO that ten more patients from shopian district are being shifted to hospital and toll of total number of positive patients at JLNM has reached to 35.
Chief Medical officer Shopian Dr Ramesh Malla told KNO that among nine new patients, 8 are from Hirpora and one from Bemnipora Shopian.
The toll of total number of positive cases in shopian has reached to 55 including 6 recoveries, he said adding that total number of positive cases in Hirpora village has reached to 42. He further added that so far 301 samples have been taken from Hirpora village and results of 56 samples are yet to come.
Officials from Ramban said that person whose sample was taken at Ramban is a kashmiri business who had managed to reach Ramban somehow and was intercepted at Batote. He was already in administrative quarantine at Ramban and has been shifted to GMC Jammu now, they said
Dr Jameel Ahmad Mir Medical Superintendent at District Hospital Pulwama said 60 more samples were taken today, he said adding that so far 782 samples have been taken at DH, among them reports are 282 are yet come
As per officials figures 79 positive cases including one death and 27 recoveries are from Srinagar, 99 positive cases including 18 recoveries and one death are from Bandipora, 50 including two deaths and four recoveries are from Baramulla, 41 including six recoveries from Kupwara, 55 including six recoveries are from Shopian, 14 including two recoveries are from Ganderbal, 14 including nine recoveries are from Budgam, 6 are from Kulgam, 9 from Anantnag and all 3 recovered from Pulwama in Kashmir division.
In Jammu division, 26 including five recoveries are from Jammu district , 20 including one death and eight recoveries are from Udhampur, 4  from Samba and 4 from Rajouri including three recoveries, one from Kishtiwar who has also recovered and one from Ramban
As per the daily information bulletin 64,876 persons in Jammu and Kashmir are under observation while as 6039 persons have been kept under home quarantine besides that 330 persons are in hospital isolation while as 279 persons are under hospital quarantine.
According to the bulletin, 44,940 persons have completed surveillance period and 13,283 persons are under home surveillance besides that so far results of 10,977 samples are available.
Out of 10,977 the number of samples tested negative stands at 10,550 while as 427 have been tested positive, among them 330 are active and 92 persons have recovered and 5 persons have died. (KNO)