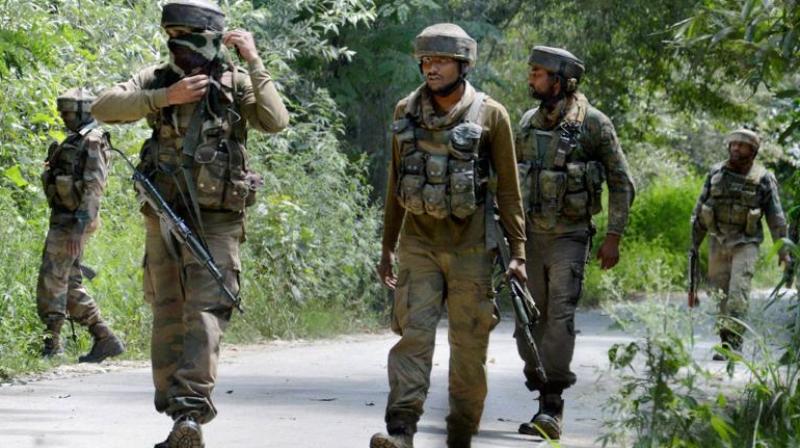 Srinagar/Kupwara: Amid the Covid19 pandemic, the heavy artillery exchange between the armies of India and Pakistan along the Line of Control (LOC) has left three civilians including a lady, man and a child dead in Chowkibal area of north Kashmir's Kupwara district.
According to the witnesses, the Pakistan army resorted to intense shelling, during which a shell exploded in a residential area leaving three persons dead and several others injured.
An official said that the jurisdiction impacted by the shelling comes under two different police districts, among the three killed, two come under Kupwara and the other under Handwara police district.
"Two civilians including a lady were killed who belong to Chowkibal Kupwara and the minor belongs to Timuna, Vilgam jurisdiction of Handwara police", he said.
Officials earlier said that this  afternoon Pakistani rangers resorted to unprovoked ceasefire violation creating fear among  the local population and targeted the posts of Indian Army.
They said that the initial fire started from Hajitara, Dhani and later  in the areas like manzgam, Malikpora, TCP, Hafrada, Kralpora &Tumna Hachimarg chowkibal.
Later GNS quoting an police officer identified the slain as Shamima Begum (37), originally a resident of Allahabad, wife of Gulzar Ahmad Hajam, Javid Ahmad Khan (16) son of late Ghulam Rasool Khan, both residents of Reddi Chowkibal and Zeehsan Bashir (8) son of Bashir Ahmad Khatana of Tumna.
The four persons injured include Ghulam Hassan Pir (60) of Reddi who has been hit in his left arm, Farooq Ahmad Kataria, Bashir Ahmad Kataria, Lal Din Chichee, Saima (12) and Sabiya, daughters of Siraj-ud-Din Badana and 16-year-old Imtiyaz Ahmad Khatria, all residents of Tumina.
Besides several houses and one car also got damaged after catching fire, the officer said.
Following the shelling, panic and fear gripped in several villages including Reddi, Chowkibal, Tumna and its adjoining areas.
"Unprovoked Ceasefire Violation initiated by Pakistan in Keran Sector at 5 pm," Defense ministry spokesman Col Rajesh Kalia in a statement issued said.
"Pakistan now targeting civilian population in Kupwara Sector near the Line of Control resulting in the killing of 3 innocent civilians including one woman and a child," the spokesman added.