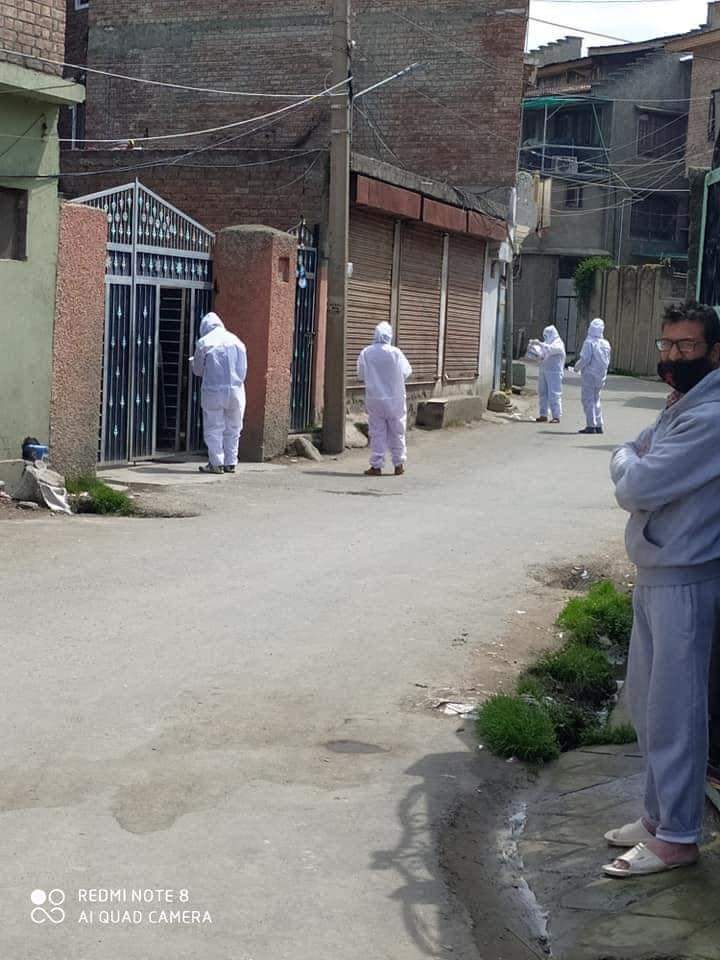 Srinagar, April 12: Jammu and Kashmir Union Territory shows no letup in Covid-19 positive cases, as 21 more cases were tested positive on Sunday taking the tally in the UT to 245.
Among them include seven from Kupwara, four from Baramulla, three from Ganderbal, and two from Bandipora and one from Kulgam districts of Kashmir division while remaining four from Jammu division.
"21 new cases of COVID-19 reported in J&K today. 17 from Kashmir Division and 4 from Jammu Division," Rohit Kansal (IAS), government spokesman said in a tweet.
Regarding Kupwara cases, sources said they include three men from Tangdhar—76-year-old, 30-year-old and 25-year-old, and they had attended a religious congregation, recently at Nizamuddin in New Delhi.
The four other cases are contacts of 23-year-old COVID-19 patient from Muqam-e-Shahwali and include his 58-year-old father, grandfather (73), maternal uncle (60) and 11-year-old sister.
Regarding the Baramulla case, sources said they include 15-year-old girl from Solinda Tangmarg and 25-year-old woman from Kathpora Tangmarg, both contacts of the previous patient. The two other cases include 38-year-old male from Maharajpora Sopore and 48-year-old man from Wagub Sopore.
The three cases in Ganderbal include a COVID-19 patient's daughter (40), his sister (60) and brother-in-law (65), they said.
Regarding Bandipora cases, they are two females one aged 55 and other 40 and are contacts of a previous patient.
The last case was reported in Kashmir from Kulgam's Damhal Hanjipora and is said to be a contact of a religious compression.
While Kulgam case was confirmed at Chest Disease hospital, all other tests came positive at SKIMS.
Professor Farooq Ahmad Jan, Medical Superintendent said that testing capacity has been further augmented and people need not to worry.
One among the four cases from Jammu includes a female doctor. Sources told Global News Service the female doctor is from Jammu though posted at PHC Tikri Udhampur, the home town of a 61-year-old woman who becomes the victim of the COVID-19 recently.
However, the officials said that there were very fewer chances of her contracting the disease there even as the investigations are underway. "Her husband is a physician in Kathua and teams are exploring more options," sources said.
From the time the first COVID-19 case was announced in J&K on March 09, it took about three weeks for the cases to reach 50-mark. It took the next five days for the cases to double to cross 100-mark and next five days to cross 200-mark.
From 52 reported cases by the end of last month, the J&K reached a cumulative tally of 106 cases on April 5. Till date, the officially confirmed tally stands at 245—49 in Jammu and 197 in Kashmir. Four people have died due to the deadly infection in the J&K while six others—three each in Jammu and Kashmir divisions have recovered and have been discharged, leaving the active cases in Kashmir to 191 and 45 in Jammu.
Meanwhile, the government informed that 51320 travellers and persons in contact with suspected cases have been put under surveillance which includes 9153 persons in-home quarantine including facilities operated by government, 433 in Hospital Quarantine, 235 in hospital isolation and 29718 under home surveillance. Besides, 11777 persons have completed their 28-day surveillance period. The Bulletin further said that 3355 samples have tested as negative till April 12.