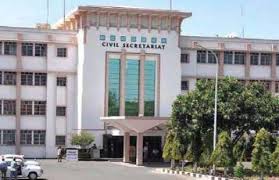 Umer Maqbool
Srinagar, Apr 08: Jammu and Kashmir's 148-year-old practice of Darbar move is likely to be partially affected due to outbreak of deadly Coronavirus as government is mulling to keep Civil Secretariat functional in both the capitals of Union Territory for one month without shifting Jammu-based staff and records to Srinagar.
Highly placed sources revealed that government is giving a serious thought to the proposal of keeping Civil Secretariat functional in Jammu as well as Srinagar for one month, starting from the first week of May.
"We are considering to open Civil Secretariat in Srinagar on scheduled time but at the same time, it will also remain open in Jammu for one month due to outbreak of COVID-19," they said.
According to sources, the staff from Jammu region will not be disturbed and remain stationed in the winter capital for this period.
"Around 80-90 percent staff of Kashmir Valley has already left Jammu," they said, adding that civil secretariat will function in both the capitals for this period. They disclosed that administrative secretaries will function from Srinagar during this period.
The government has already worked out a roster system for government employees to prevent spread of COVID-19 in offices. Senior officials confirmed that government is thinking on these lines.
"There can be changes in this proposal. Nothing is final as of now," they revealed.
As per the practice, the civil secretariat and all other important offices of J&K would function from May to October in Srinagar. These offices would function in Jammu from November to April.
The civil secretariat would shut in Jammu in last week of April and re-open in Srinagar in first week of May.
The practice of Durbar Move was started by Dogra ruler Maharaja Gulab Singh in 1872 to "escape the extreme weather of Kashmir in winter and to give a fillip to economy of Jammu" (KNO)