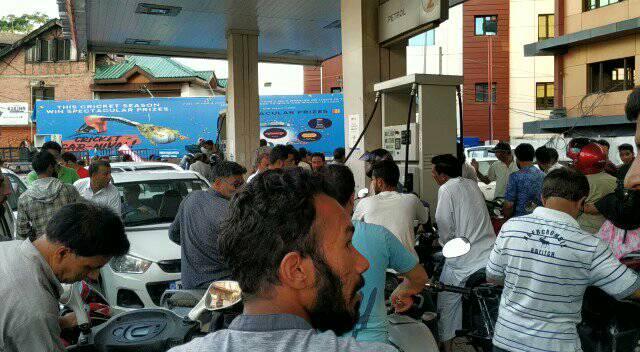 Srinagar: Panic gripped the Kashmir Valley after government issued "security advisory", asking Amarnath Yatris as well as tourists to leave Kashmir as soon as possible.
The order comes at a time when governor Satyal Pal Malik repeated stated from last three days that everything is normal in Kashmir Valley.
"Keeping in view the latest intelligence inputs of terror threats with specific targeting of the Amarnath Yatra, and given the prevailing security situation in the Kashmir Valley, in the interest of safety and security of the tourists and Amarnath Yatris, it is advised that they may curtail their stay in the valley immediately and take necessary measures to return as soon as possible," an order issued by Principal Secretary, Home Department, Shaleen Kabra here read.
As soon as the order was made public, people moved in haste to stock up on essential items, including ration, petrol, diesel, LPG and medicines.
A huge rush of people was seen outside grocery stores, petrol pumps and medical shops across Kashmir Valley.
In summer capital, Srinagar, there was chaos on the roads and people left their routine works to stock up essentials.
Long queues were seen at petrol pumps across as panic-gripped people started filling their vehicles with fuel and also stocking up essentials.
Similar reports were received from other parts of the Kashmir Valley including Kupwara, Baramulla, Bandipora, Ganderbal, Budgam, Pulwama, Anantnag, Shopian and Kulgam.
The uncertainty was already prevailing in Kashmir in view of the government of India's order to deploy 10,000 troops in the Valley. The situation became more explosive after media outlets reported that 25000 more troops were inducted in Kashmir last evening.
The deployment of thousands if troops and official order asking pilgrims and tourists to leave gave rise to the speculations about some major decision in the offing regarding the state's special status.
Almost all the mainstream parties as well as separatists reacted strongly to the security advisory with National Conference leader Omar Abdullah saying that the directive would do nothing to dampen the sense of fear that is prevailing in the Valley.
"Although this unprecedented order would seem to suggest a genuine fear of a massive terror strike directed at Amarnath ji yatris or/and tourists this will do nothing to dampen the sense of fear & foreboding that prevails in the valley at the moment," Omar said in a series of tweets.
 "Seriously? You think an official order telling tourists to leave immediately will not cause them to run from the valley as fast as they can? Which tourist will hang around after seeing this order. The airport & highway will be choked with people leaving," he said in another tweet.
"Where is the Governor? Why is he not addressing people? Why is he allowing panic to spread unchecked? His government has issued an order that has caused chaos on the streets. When he has to make unfounded allegations he has a camera at his disposal, yet now he's strangely silent," he said.
In another tweet, he said: "I have so many questions & not a single answer. I've met people today  who occupy important positions to do with J&K, not one of them was able to tell me anything and I've been CM for 6 years. Imagine the plight of your everyday Kashmiri who doesn't know what to believe."
Omar said It's easy to accuse him and other mainstream leaders of spreading fear but "no one is bothering to tell the people what is happening so how do you expect that fear won't be a natural result of this situation that has been allowed to fester?"
Omar said his friends staying in hotels in Gulmarg are being forced to leave. State road transport corporation buses are being deployed to bus people out from Pahalgam and Gulmarg, he said. "If there is a threat to the yatra why is Gulmarg being emptied?"
PDP president Mehbooba Mufti also took to tweeter and alleged that the government of India had resorted to "military might" and techniques like "psychological warfare" in the state.
"First the avalanche of private orders about stocking up supplies that somehow made their way into public domain. And now news like this will create panic & distress," Mufti tweeted.
"So far, GOI's resorted to military might & psychological warfare like techniques vis a vis J&K. Neither will work," she added.
Former IAS officer-turned-politician Shah Faesal asked if the administration was going to issue a separate advisory for the locals of Kashmir.
"JK Govt has asked Tourists and Amarnath Yatris to leave Kashmir immediately in view of a security threat. Is the Government considering any such advisory for locals also?" he asked.
Chairman of his faction of Hurriyat Conference Mirwaiz Umar Farooq said that the situation developing on ground over the past week with deployment thousands of additional forces and government orders circulating has alarmed people.
Addressing the Friday congregation at historic Jama Masjid here, Mirwaiz said people have become apprehensive of something happening.
He said various speculations are rife including removal of 35A to change the demography of the state and its Muslim majority character. He said for the past three years there has been a great push towards it since when various PILs are filed in the Supreme Court to challenge it.
He said as in past people and leadership have to be ready to resist every attempt to undo it.
Mirwaiz said the provision was negotiated by the regional electoral parties and is an article of faith, which should not be breached.