A powerful bomb tore through a police patrol van at a busy roundabout in Pakistan's Quetta Tuesday evening, killing at least five people – among them two policemen.
Thirty-two people – including Additional SHO Shafaat Ali – were also wounded in the attack targeting the police vehicle parked outside the City Police Station at Bacha Khan Chowk, according to DIG Quetta Abdul Razzaq Cheema, Express Tribune reported.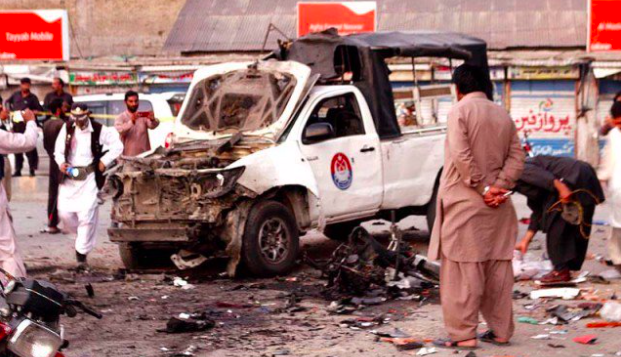 "The bomb went off as soon as SHO Shaffat got down from the vehicle," DIG Cheema told media persons at the crime scene.
He said it was too early to confirm whether it was a suicide attack or a remotely triggered device.
DIG Cheema confirmed five fatalities: two policemen and three civilian passers-by. He said women and children are among the injured who have been driven to the Civil Hospital.
Additional SHO Shaffat was shifted to Quetta's Trauma Centre, where medics said his condition was critical.