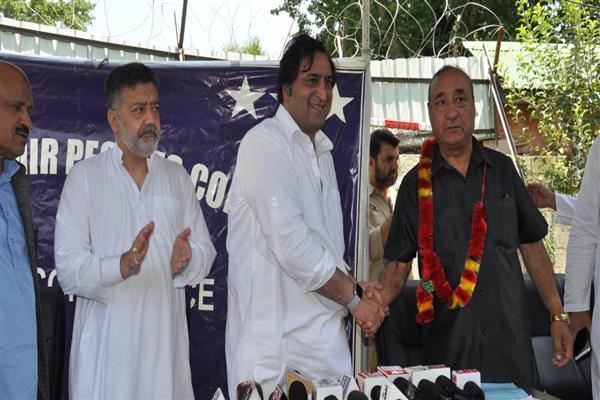 Srinagar:  Congress leader and ex legislator Muzaffar Parray along with his workers joined Peoples Conference (PC).
He joined the PC in a function attended by the party chairman, Sajad Lone.
Speaking on the occasion, PC Chairman Sajad Lone said that, "Peoples Conference is a mission for change in real sense. Our ideology isn't sellable for temporary power, we are here for the welfare of our public and we want them to enjoy their democratic rights of which they are devoid because of the neglect from parties who were in power for the last so many decades. We are working at the ground level and I feel privileged to announce that apart from Mr. Muzaffar Parray, Abdul Hassan Bhat Ex PDP Halqa President Zadibal, Samiullah Hafiz Ex PDP Halqa President, Umar Colony, and Abdul Aziz Dar Ex PDP Halqa President Mallabagh have also joined the 'Caravan of Change'.
"The new joinees vowed to work for the change, for strengthening party's core idea at the grass root level and address our people in accordance to their aspirations. We are dealing with a lot of stress lately due to the chaos brought by center in relation to the special status of Jammu & Kashmir, but changes like these when our people show faith in us and join our vision, helps us to strengthen our belief system", PC spokesper said.
Muzaffar Parray, while speaking on the occasion termed this day 'as the happiest day of his political life and said that "he has full confidence in the vision and leadership of Peoples Conference which is the only party in Kashmir with potential to take our state out of the conflict and give a way to a new era of stability and economic development."