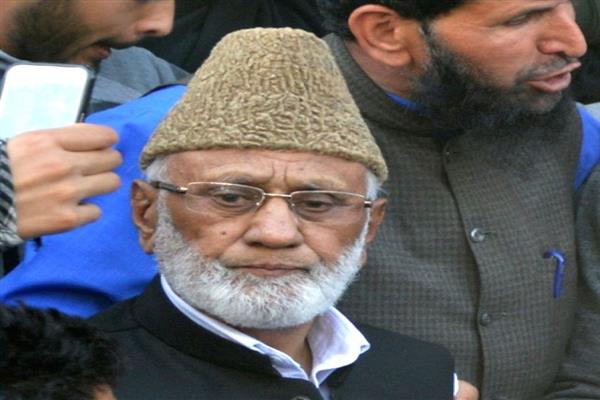 Srinagar: Tehreek-e-Hurriyat chairman Mohammad Ashraf Sehrai on Thursday strongly condemned the detention of party leader Syed Imtiyaz Haider in police station "despite the court having quashed his PSA and ordered his release from the preventive detention."
In a statement  he claimed by such tactics authorities are making a mockery of their own ruling and justice system.
"The authorities are deliberately prolonging the detention for political belief and dissent and define them as criminals or threat to state. They never formally acknowledge holding political prisoners within its prison system, which is a blatant violation of right to access to justice," Sehrai said.
"The administration is practicing all the methods of coercion, oppression and arm twisting to punish the Kashmiris by jailing them. In the decades of its existence, the PSA has ruined countless lives," he alleged adding the families of those who are detained face severe financial difficulties because they spend all of their life savings on legal procedures to get their loved ones out of jail.
The TeH chairman appealed to the international human rights organizations to intervene and help release all the political leaders and activists including Haider.
Meanwhile, on his direction, a delegation of (TeH) led by district president Srinagar Rafiq Owasi visited the residence of Srinagar youths, who were released after 23 years of imprisonment and shared the joy and happiness with the families over the release.