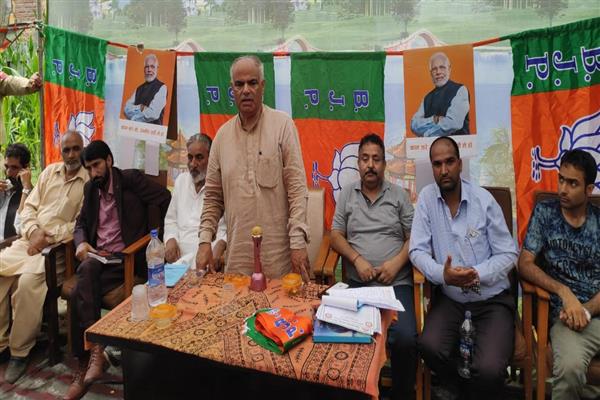 Srinagar: Bharatiya Janta Party (BJP) State General Secretary (Organization) Ashok Kaul Wednesday laid thrust on the importance of membership campaign.
Addressing the programme, Kaul said that this whole drive, supposedly core element for "Sangathan Parv", constituted the foundation of internal democracy in the party.
He claimed that BJP was the only political party in the whole country which had created the true picture of democracy as anybody with a humble background and sheer hard work and dedication could reach to the top most post in the party's hierarchy.
"People are joining the party after realizing its pro people agenda without any discrimination on the basis of creed and caste," Kaul said.
Kaul also said that BJP as world's largest political party in the terms of primary membership had yet to reach its pinnacle, as held by National President and all party workers had to push harder to achieve the aim.
The programme was organized by Chairman Municipal Committee Devsar Mushtaq Ahmad. Manzoor Kulgami DP Kulgam Ghulam Nabi Dar, Organising Secretary Veer Saraf, DGS Kulgam Abid Hussain, Membership Incharge Kulgam Muzaffar Katoo, Protocol Incharge and Corporator Nazir Gilkar, Mohd Yousuf and other party leaders also attend the programme.