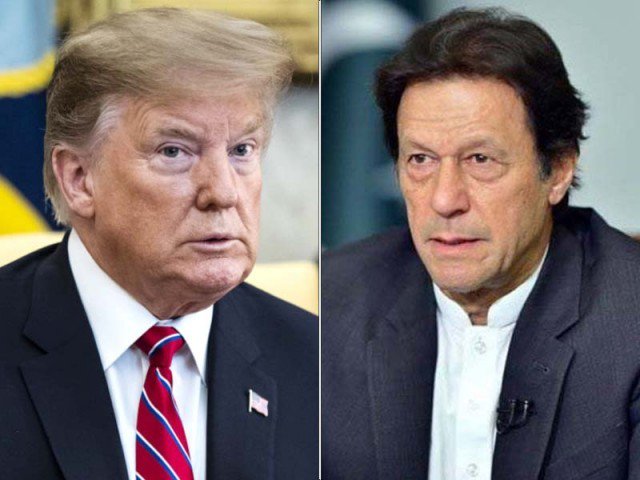 Washington: Pakistani Prime Minister Imran Khan is due to visit the White House for his first face-to-face talks with US President Donald Trump.
A BBC News report said on Monday that the meeting is part of a push to mend relations, which have been strained by the Afghan conflict.
Mr Trump reduced security aid to Pakistan early last year, accusing the country of "lies and deceit".
Mr Khan said US assistance was "minuscule" compared with what the US-led "war on terror" had cost Pakistan.
Since he won Pakistan's general election just under a year ago, he has called for "mutually beneficial" ties with America, while remaining an outspoken critic of US anti-terrorist tactics such as drone strikes.
The Trump administration is trying to negotiate its military withdrawal from Afghanistan with the Taliban, a militant group it has long accused Pakistan of supporting.
As well as counter-terrorism and defence, the two leaders are likely to discuss trade and investment as Mr Khan battles to fend off a balance of payments crisis after a bailout from the International Monetary Fund.
How did relations fray last year?
Since Donald Trump took office in 2017, his administration has adopted a hard line against Pakistan, accusing it of supporting Islamist militants and misleading the US over the issue – charges Islamabad denies.
As much as $2bn (£1.6bn) in US security assistance has been suspended.
After Mr Trump tweeted again in November to remind Pakistan that 9/11 mastermind Osama Bin Laden had lived there before finally being hunted down by US forces, Imran Khan shot back to "put the record straight" on which country had paid more to defeat terrorism.
However, a couple of months before that Twitter clash, US Secretary of State Mike Pompeo had already raised the prospect of a reset with the new government of Mr Khan.
According to Pakistan's foreign office, Mr Khan's visit "will help renew and reinvigorate long-standing ties between Pakistan" and the US.
Adding to the positive mood music came a new tweet from Mr Trump on Wednesday, announcing that Pakistan had arrested the "mastermind" of the 2008 terror attacks in the Indian city of Mumbai, after a search lasting two years.
In actual fact, the man arrested, Hafiz Saeed, has been arrested and freed several times by the Pakistani authorities over the past two decades. Far from hiding, he has even addressed rallies and campaigned in recent Pakistani elections.
Pakistan will hope the arrest will help persuade the Financial Action Task Force (FATF), a global watchdog against money laundering and terrorism financing, not to blacklist it in the coming months. (UNI)