Kargil: A large number of anganwadi workers and helpers on Monday protested against the decision of the State Administrative Council (SAC)to disburse their honorariums through Gram Panchayats.
The workers and helpers, working under the Integrated Child Development Services (ICDS) scheme from different parts of the border district, assembled in the main town demanding immediate roll back of SAC decision. 
The protesters under the banner of Anganwadi Workers and Helpers Association J&K (Kargil – Leh ) raised slogans against SAC decision staged a 'dharna' at new bus stand disrupting traffic movement on Kargil-Baroo road.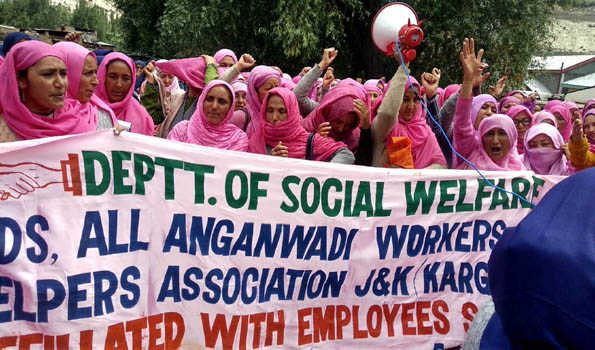 President of the association Zahra Banoo said disbursing honorarium through Gram Panchayats can pave the way for corruption and harassment of these workers and helpers.
She said they are demanding rollback of this arbitrary decision and also demanding for making ICDS employees permanent and increase its budgetary allocation.
The Government must also pay minimum wages, social security and pension to all workers and helpers, she demanded.
She further added that supervision of Anganwadi Centres is done by ICDS department and they don't object the coordination with Panchayati Raj Institutions in running the Anganwadi Centres if Panchayats provide resources to the Anganwadi Centres like additional food, milk, eggs, toys and uniforms for children.
If Panchayats have to monitor government services then, why don't they monitor all the services and link the salary of all Government employees to Panchayat, she asked.