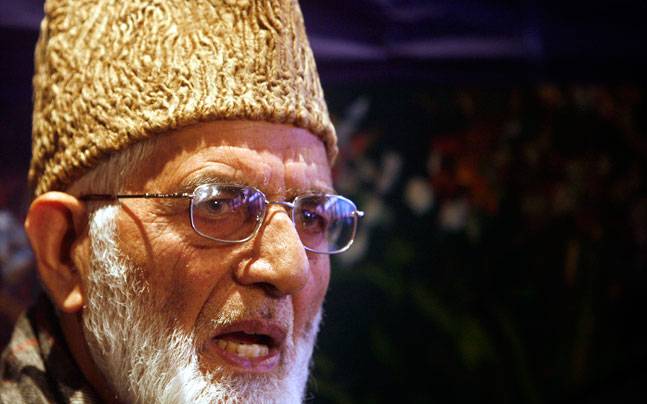 Srinagar: Hurriyat (G) conducted a meeting of its Executive Council (Majlish Shoora) at Hyderpora Srinagar.
According to the statement, the meeting was chaired by its chairman Syed Ali Geelani in which present political, social and administrative situation was discussed.
Condemning the slapping of PSA against its spokesman G Ahmad Gulzar, Hurriyat, the participants said that "tall claims of governance and rule of law stand shamefully exposed when a person is rearrested on same grounds within a fortnight."
The participants nominated Hakeem Abdul Rashid as new spokesman of the amalgam.
"Syed Ali Geelani is the icon of the freedom movement for which he has devoted his whole life with all the hardships and oppressive measures used by the forced occupier to dent his resolve. When the rulers failed to cow him down by stripping him of his political workers and advisers, they started to harass his family using the investigative agencies as a war weapon, both his sons were repeatedly summoned to Delhi for the last two years and now his grandson Anees-ul-Islam has been again asked to appear at NIA headquarters in New Delhi. Such means and illogical actions cannot legitimize the forced control of this piece of land," Hurriyat (G) said.
The statement further added that Anees's father Altaf Ahmad Shah is already in Tihar jail for the last two years and summoning his son seems nothing other than harassing and leveling fabricated cases and give them media hype by their corporate media houses to justify muscular policy against the pro-freedom people.
Those constituents who participated in the Majlis Shoora meeting include Haji Gh. Nabi Sumji, Mohammad Yaseen Ataie, Molvi Bashir Irfani, Zamrooda Habib, Mohammad Maqbool Magami, Devinder Singh Behal, Syed Mohammad Shafi, Khawaja Firdous, Arshid Aziz, Yasmeen Raja, Bilal Ahmad Sidqui and Hakeem Abdul Rashid.