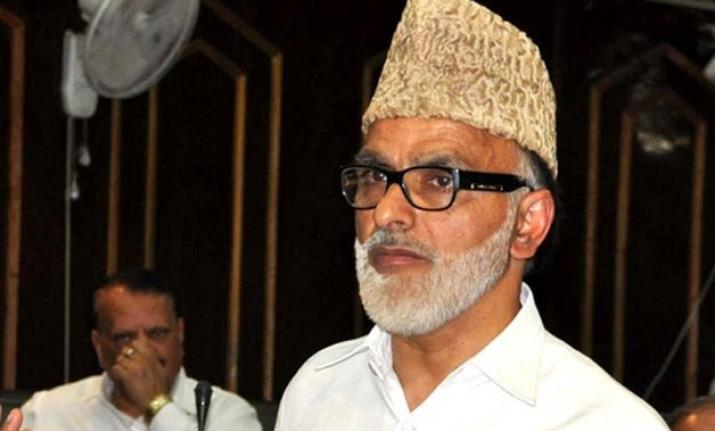 Srinagar: National Conference Saturday expressed dismay over the statement of Union Home Minister on the question of conducting assembly elections in the state, saying the inordinate delay in holding assembly elections in the state is synonymous with scuttling federalism in the country.
Addressing a series of worker's conventions at Rafiabad and Baramulla, party General Secretary Haji Ali Muhammad Sagar said the central government led by BJP was persistent on ruling the state from the center. He said the move will prove detrimental to the structure of federalism in the country.
"On one hand the Home Minister minces no word to accentuate the peaceful conduct of ULB, Panchayat and Parliament elections, simultaneously he is denying a representative government to the state. Yesterday, we heard the home minister necessitating on the need of strengthening grass root level democracy in the state.
How can the dream possibly be achieved by delaying the assembly elections? The measure is fraught with undue politicking. Any further delay in having an elected representative government in the state will further increase the gap between the government and the people.
The youth of the state in particular stands disenfranchised due to the imprudent policies of former BJP-PDP government; the incumbent governor administration is proving equally inefficient.
The absence of an elected government in the state has put the identity and integrity of the state on peril. The people of the state are yearning for a stable government which could protect the identity and territorial integrity of the state. Above and beyond the development has been the prime causality as a consequence of election delay in the state," he said.
Reacting sharply on the statement of home minister party's provincial president Nasir Aslam Wani said Art 370 of the constitution of India is solemn pledge of the constituent assembly of India to the State. "If Article 370 is temporary, then the very edifice built on it is impermanent. The sordid assertions like these aiming at obliterating the identity will add to the disenchantment in the youth.
The need of the hour is to strengthen the Art 370, Art 35-A," he said adding, "The main objective of the party is to strive towards restoration of Pre 1953 situation in the state. Ours is the only party that has already put forth vision towards solving the protracted issue of J&K.
It is the restoration of autonomy that will clean the cob webs of mistrust between the center and the state. The need of the hour calls for making aggressive efforts towards increasing the prospects of peace and prosperity in the state," he said.
Party senior leader Abdul Rahim Rathar while addressing the workers said the NC is the only political dispensation of the state which boasts a panacea for varied problems of the state. "The party's autonomy resolution and the Naya kashmir programme afford an effective remedy for the issues concerning the state. The party will continue to strive towards achieving that end," he said.
Among others Javed Dar, Showkat Mir, Irshaad Rasool Kar, Muhammad Ashraf Ganai, Dr Sajad Uri, Muhammad Yaqoob Wani also addressed the workers and impressed upon them to intensify their engagement with the people