Garhwa: Five people were killed and about 40 others injured as a bus coming from Chhattisgarh fell into a gorge here at Annaraj Nawadih Ghati on the Garhwa-Ambikapur road on Tuesday morning. 
Police said that 'Popular Bus' was coming from Ambikapur of Chhattisgarh and was going to Garhwa when the accident took place around 14 kilometres before it could reach the Garhwa district headquarters.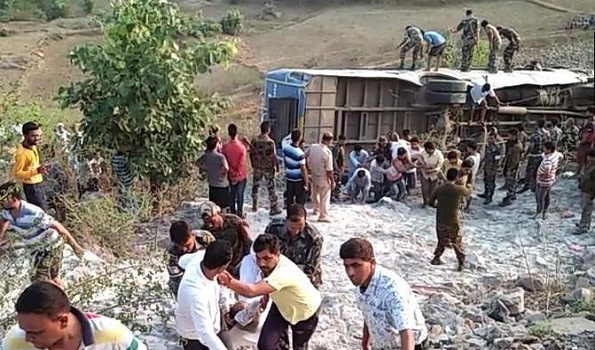 Superintendent of Police Shivani Tiwari confirmed 5 deaths and 40 injured.
The injured were rushed to Garhwa Sadar Hospital. After receiving information, police teams along with ambulances and local villagers rushed to the spot to rescue the passengers.
Heavy cranes were brought in to lift the bus from the gorge. Relief and rescue measures were currently underway.