Prime Minister Imran Khan in his address to the nation late on Tuesday night hit out at opposition parties in line with the government's ongoing accountability drive, saying that he would form a high-powered commission to probe the massive Rs24,000 billion debt piled up in the last 10 years.
Share Quote
The premier's address comes hours after his Pakistan Tehreek-e-Insaf (PTI) government presented its first Federal Budget 2019-20 in the National Assembly.
Earlier in the day, two major political leaders also got arrested – Hamza Shehbaz, leader of the opposition in the Punjab Assembly; and Altaf Hussain, founder of the Muttahida Qaumi Movement (MQM).
The premier said that the commission would comprise officials of the Federal Investigation Agency (FIA), Intelligence Bureau (IB), Inter-Services Intelligence (ISI), Federal Board of Revenue (FBR) and Securities and Exchange Commission of Pakistan (SECP).
He said that the country's economy has stabilised, adding, "I'm coming after everyone who plundered public wealth."
The prime minister further said that the inquiry commission would have a one-point agenda, which would be to ascertain how Pakistan's debt had risen from Rs6,000 billion to Rs24,000 billion in a 10-year period.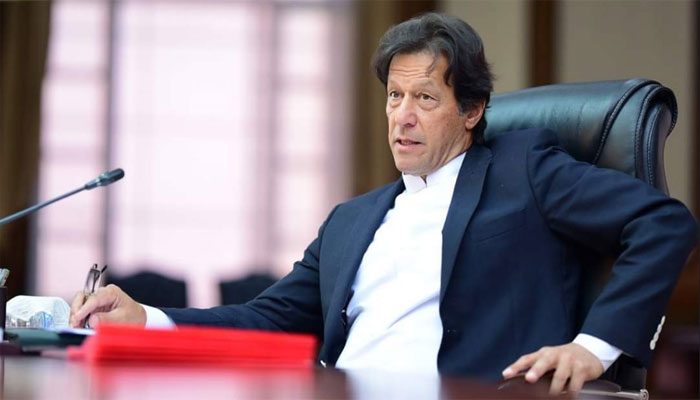 He said that under no circumstance would he be "strong-armed" into ending accountability proceedings with protests by the opposition.
"They [the opposition] have been lambasting us [the government] that the rupee has fallen, instead they should see we are trying to stabilise the economy," he added.
He said the opposition has tried its best to destabilise the economy, adding, "You see, three ambassadors wanted to invest in Pakistan, but backed out because our economy was not stable at the time."
Premier Imran said that opposition was least bothered with the betterment of the public as all their money has been stashed overseas.
"When our rupee falls, their assets go up in value," he said.
Speaking about the austere budget rolled out by the government, he said: "It is testament to the 'Naya Pakistan' the Tehreek-e-Insaf (PTI) government wants to create."
Premier Imran said that there is no quick fix to the country's problems. "You can already see how Pakistan is changing under our government."
He added: "I want to create a Pakistan which is in line with the  first Muslim society created by Prophet Muhammad (PBUH) in Medina."
The supremacy of law and meritocracy, he said, were the key cogs in the first Muslim society.
The prime minister said the previous Pakistan Peoples Party (PPP) and Pakistan Muslim League-Nawaz (PML-N) governments had plundered the country.
He also said that the National Reconciliation Ordinance (NRO) was done under former president Pervez Musharraf's leadership to cover the tracks of the opposition's corruption and money laundering.
The prime minister lauded the Pakistan Army for refusing an increase in the salaries of senior officers even as the country faces the threat of terrorism and only opting for a pay raise for junior ranks.
The premier said that he had been hearing the same question ever since he assumed office that "where is Naya Pakistan?"
"Medina didn't become a welfare state in one day … It's not a switch that Imran Khan would turn on and it will become a Naya Pakistan … it is a process."
PM Imran said that the judiciary is free and impartial today. "Now, Imran Khan cannot influence judiciary or NAB … NAB is not under me. They [previous governments] formed NAB, we didn't. Neither did we appoint its chairman."
He said all cases against Nawaz Sharif, Shehbaz Sharif and Asif Ali Zardari were filed long before his government came into power. "Still they don't let me speak in the parliament … what is my fault? My only fault is that I am not giving in to their pressure tactics to give them what they want, which is NRO."
The address was first slated to air at 9:15 pm but was then delayed to 10:30, after which it was once again delayed till 11:45 pm. It was also disrupted by 'technical glitches' on at least two occasions during the live telecast. (Express Tribune)