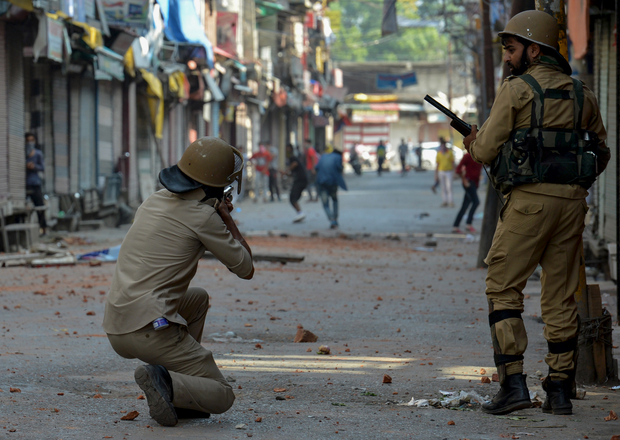 Srinagar: Clashes were reported between protesters and government forces in parts of Kashmir in the midst of Eid celebrations.
In north Kashmir's Sopore, witnesses said that soon after the Eid prayers in Jamia masjid, Sopore hundreds of people assembled outside the mosque and started raising pro-freedom and anti-India slogans.
Protesters took to streets immediately after the Eid prayers were over and started raising pro-freedom and anti-India slogans.
However, government forces including police and paramilitary personnel fired teargas shells to disperse them resulting in the clashes. The protesting youths pelted stones on the forces who retaliated with tear smoke shells.
Clashes also broke out between government forces and protesters in main town Kupwara following Eid
Prayers at Markazi Jamia masjid Kupwara. Clashes also broke out at Nowhatta area after Eid prayers. The festival of Eid was celebrated with much fanfare across the State with people thronging mosques, shrines and Eidgahs for special prayers.
In South Kashmir clashes also broke out between youth and police in South Kashmir's Anantnag district after Eid Nimaaz was over.
According to the witnesses, youths, chanting pro freedom and anti-India slogans, clashed with forces in several areas of old town areas of Anantnag.
Clashes were reported from Janglat mandi; Reeshi Bazar; Lal chowk and  Sherbagh areas.
Eid prayers were not held Ahl-e-hadees Eidgah Achajipora, Hanfia Eidgah janglatandi  because of overnight rains While as eid prayers were offered at jamia ahlihadees sherbaggh, jamia masjid hanfia reeeshi bazar and Darul Huda and Rehat ded mosque lal chowk.
In Shopian three persons sustained injuries during clashes with government forces.