Jammu: Against the backdrop of National Conference claim of repeating 1996 by winning maximum number of seats in next Assembly polls, the state unit of BJP on Wednesday mocked the party asserting that how they can be the voice of the majority with mere 7 per cent vote share.
NC provincial president Devendra Singh Rana on Tuesday had said that the people voted to Prime Minister Narendra Modi not to the BJP and the saffron party will be able to win 25 seats in next Assembly seats but NC will make a comeback with huge mandate.
"Rattled and unnerved by the massive mandate received by Bharatiya Janata Party, the leadership of National Conference has begun its ugly campaign of lies and falsehood to mislead the people, as a prelude to its campaign for the assembly elections likely to be held in the near future", said Brig Anil Gupta, State Spokesperson of BJP.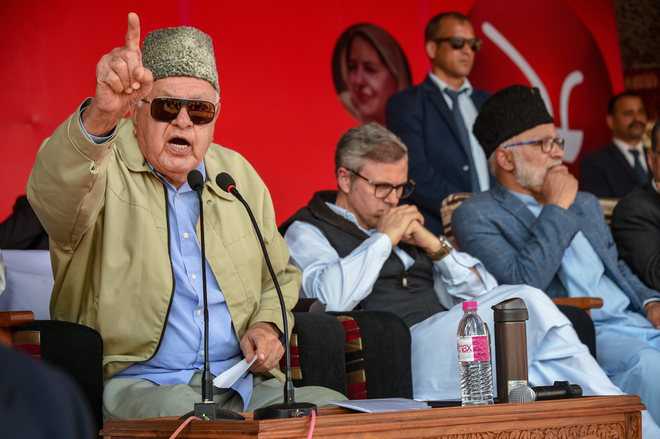 "Much water has flown in Jhelum and Tawi rivers since 1996 including the massive floods which washed away the NC from the political scene of the state," he said adding that the party was blinded by power to such an extent that its declining vote share, which reached its lowest 7 per cent in 2019, went unnoticed by the dynastic hierarchy of the party. Consequently, the party failed to field its candidates in Jammu and Ladakh regions, he added.
"With mere 7 percent vote share how can the party claim to be a voice of the majority," questioned Brig Gupta?
"The party failed to hold on the two seats occupied by its MLAs in Jammu. Their contention now that it happened because there was no NC candidate contesting is a confession of betrayal and backstabbing of their alliance partner Congress," he added. 
It is evident from the statement that NC sabotaged the chances of Congress by asking its cadre to not to vote for non-NC candidates, asserted Brig Gupta. 
How can people trust such a political party whose hallmark is "opportunistic politics" and "Kursi" politics and betrayal is a norm? lambasted the BJP spokesperson.
"Let NC give a list of 10 achievements for Jammu ever since its return to power in 1975. From Sheikh Abdullah to Omar Abdullah, NC has been instrumental in blatant discrimination with Jammu and Ladakh," he said.
NC has to reconcile to the fact that Jammu and Ladakh will never give its mandate to a pro-terror, pro-separatism and anti-Army party, asserted Brig Gupta.