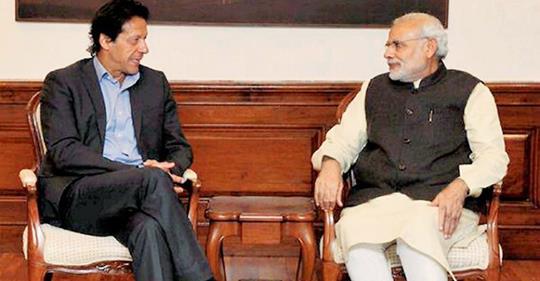 New Delhi: Prime Minister Narendra Modi on Sunday received telephone call from his counterpart in Pakistan, Imran Khan, congratulating him on his stupendous victory in the general elections.
'PM spoke to PM Modi today and congratulated him on his party's electoral victory in Lok Sabha elections in India. PM expressed his desire for both countries to work together for betterment of their peoples,' tweeted spokesperson of Ministry of Foreign Affairs in Pakistan, Mohammad Faisal.
Dr Faisal said Mr Khan reiterated his vision for peace, progress and prosperity in South Asia and hoped to work with Mr Modi in this direction.
'Reiterating his vision for peace, progress and prosperity in South Asia, the Prime Minister said he looked forward to working with Prime Minister Modi to advance these objectives,' Dr Faisal said.
The Prime Minister thanked Mr Khan for his telephone call and greetings.
Recalling his initiatives in line with his government's neighbourhood first policy, Prime Minister Modi referred to his earlier suggestion to the Pakistan Prime Minister to fight poverty jointly.
He stressed that 'creating trust and an environment free of violence and terrorism were essential for fostering cooperation for peace, progress and prosperity in our region', according to a statement issued by the Prime Minister's Office.
Upon assuming office last year, Prime Minister Imran had expressed a desire to improve relations with India, saying that "if they take one step towards us, we will take two". But Khan's statement and subsequent overtures did not yield the desired result as anti-Pakistan sentiment appeared to be a dominant theme in pre-poll campaigning in India.
Relations between Pakistan and India reached a crisis point in February after a suicide bombing in occupied Kashmir's Pulwama killed more than 40 Indian paramilitary police in Kashmir. India had immediately hurled allegations of Pakistan's involvement, whereas Islamabad strongly rejected the claim and asked for "actionable evidence".