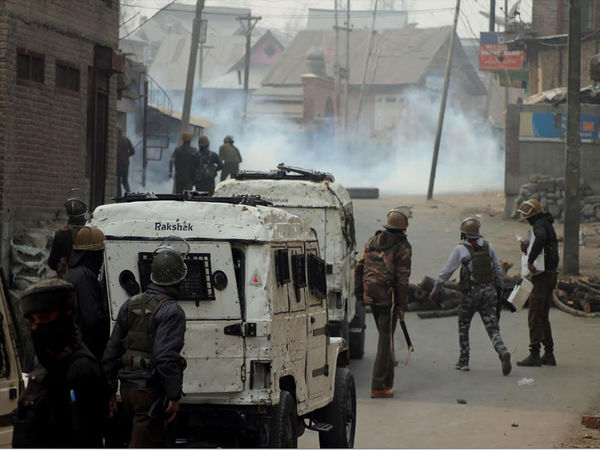 Srinagar: Scores of people were injured in government forces actions to quell protests at several places in Kashmir Valley against the killing of Zakir Musa, Kashmir's most wanted militant commander, who headed the Al Qaeda affiliate Ansar Gazwatul Hind.
Reports of clashes were received from several parts of Srinagar including Grid Station Illahibagh, Soura, Nalbal Nowshera, Nudresh Colony Byepass, Baghi Mehtab, Manchowa, Ganderpora Eidgah, Habakadal, Mehjoornagar, Sozeht Narbal, and Humhama. Eight youths were injured due to pellets and teargas shelling at Sabzimandi Soura, report said.
Clashes were witnessed from parts of south Kashmir including Pampore, Seer Hamdan Mattan Anantnag, Qazigund Bazar, Sernal Anantnag, Keller near Police Station Shopian, Dooru Shahabad Charsoo Awantipora and Bun Dialgam.
Reports of clashes were also received from parts of north Kashmir including Sopore, Chitibandi, Papchan, Singhpora, Main Chowk Bandipora, Shilvat Sumbal, Khanpora Baramulla, Kupwara Jamia Masjid, Khwajbagh Baramulla, Hajin and Dardusun Kralpora. One youth namely Irfan Tariq suffered injuries in his face and hand and was evacuated to Sub-District hospital Sopore where from he was referred to Bone and Joint Hospital here.
Another youth, Dawood Bashir was hit with pellets at Arampora and was shifted to SMHS hospital here.
Also, 18-year-old Mohammad Hussain and 17-year-old Mohammad Amir suffered pellet injuries in their eyes and were shifted to SMHS hospital.
Reports of clashes were also received from parts of Ganderbal including Beehama, Kurhama, Barsoo and Safapora areas. The authorities had also closed all educational institutions and as per the divisional administration in Kashmir, all schools and colleges across the Kashmir division shall remain closed on Saturday (May 25) as well.
Divisional Commissioner Baseer Ahmad Khan said the decision to close the said educational institutions has been taken as a precautionary measure.
He said admit cards, roll number slips shall be treated as travel passes for candidates for the candidates who have to appear in different examinations on "curfew days." (GNS)