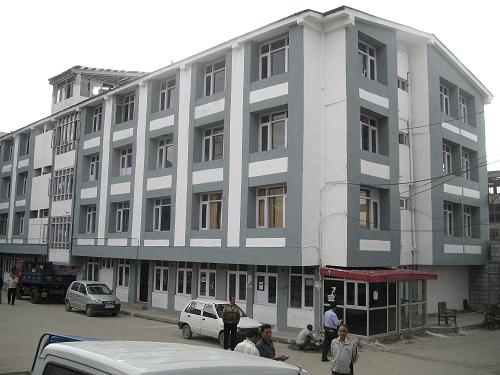 Srinagar: In gross violation of government rules and without the approval of Srinagar Municipal Corporation (SMC) Commissioner, Chief Enforcement Officer, Akbar Sofi has engaged consolidated workers in the corporation.
After the recruitment scam surfaced in the SMC, Sofi who engaged six consolidated workers from the backdoor has been attached by an official order.
"Mohammad Akbar Sofi, Chief Enforcement Officer, position Chief Sanitation Officer the then has been attached to the office of Additional Commissioner," SMC order reads
The order stated that Sayed Nissar Hussain, Chief Sanitation officer will look after the charge of chief enforcement officer.
Sofi held the position of Chief Sanitation Officer when he illegally engaged the consolidated workers.
In the previous order before his attachment, the SMC Commissioner, while making grounds to take action against Sofi, stated that he (Sofi) had engaged six persons as consolidated workers in brazen violation of the government orders.
The order read that Ubaid Nabi Wani, resident of Shamas Abad, Umer Bashir, of Rainawari Srinagar, Insha Shafi Batamaloo, Ishtifar Nabi, Chattabal , Aisha Gilkar Chattabal and Ahsan-ul-Haq, Baspura were engaged as consolidated workers in clear violation of rules.
"Whereas there is blanket ban of the engagement of consolidated/casual/daily workers from the government and no such engagement can be made at any cost," the order issued by the SMC commissioner read.
"Whereas, during the tenure of the undersigned commissioner SMC, 14-02-2019, no such approval has been granted.
Whereas Chief Enforcement officer, the then chief sanitation officer, was asked to explain his position as to why said engagements have been made in violation of the government order/policy. Moreover CEO was asked to submit the file where under approval of trhe then commissioner SMC, if any, has been sought in the instant cases," the order stated.
In response to the SMC query, Sofi in a communication admitted that "the said orders are forged and fake manipulated and no correspondence regarding the subject has been made by this office to the office of commissioner".
The order stated that besides, "the dispatch numbers of the engagement orders do not correspond to the dispatch register of his office".
Following this, the SMC constituted a committee comprising of Nazir Ahmad Baba, additional Commissioner SMC, Abul Qasim Joint commissioner SMC (Admin), Ghulam Nabi Bhat, Chief Accounts officer, Khursheed Ahmad Makhdoomi Assistant director planning to probe the matter in-depth.
According to the SMC sources, Sofi has been attached and he comes to office regularly.
"The inquiry is going on," sources said. "But his protocol remains intact. He continues to enjoy perks".