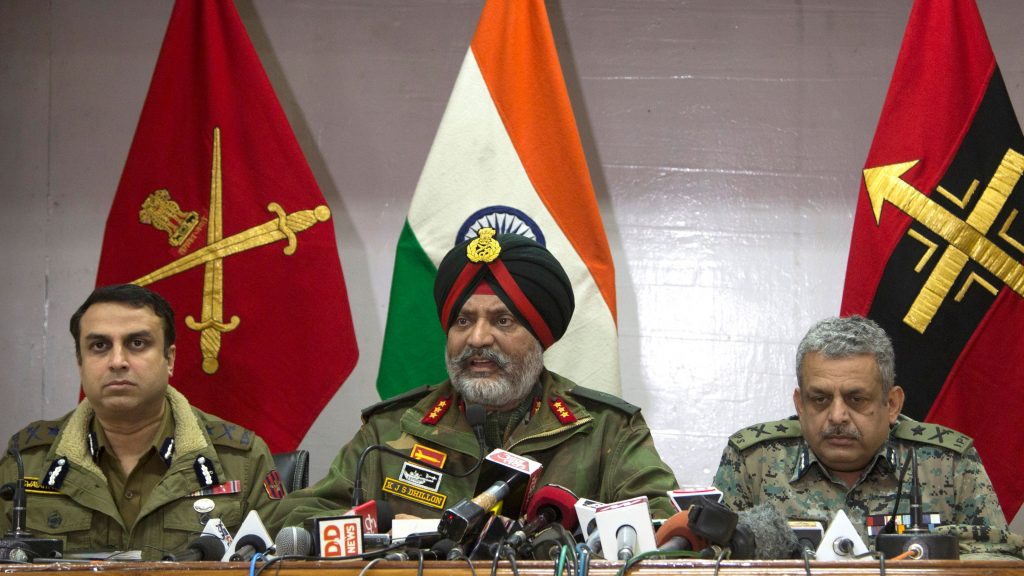 Srinagar: General Officer Commanding (GOC) 15 corps Lt Gen Kanwal Jeet Singh Dhillon has said that "no one is coming forward to take Jaish leadership in Kashmir" due to the "elimination of a large number of militants."
"Recruitment level of local youth is down," Dhillon said during a presser along with Director General Police and other police officials .
"And also no one knows about these boys who have surrendered," he said.
The GOC also appealed local youth not to come to encounter sites during or after gunfights.
He said after Lashkar had "killed a young boy after holding him hostage during Budgam encounter, Kashmiris must ask if this is jihad ya jahalat."
Addressing the media Police said a large number of youth had been "quietly" weaned away from militancy but refused to reveal the exact numbers owing to "security concerns."
"There are many youth who have either surrendered or were stopped from joining militancy. We can't reveal the exact numbers for their safety and security," police chief Dilbag Singh said while addressing a press conference.
He said Jammu and Kashmir had seen "positive trends" during 2018 vis-à-vis  "law and order situation."
"Recruitment of local youth dipped down and continues to be very low," he said, adding 272 militants were killed and many apprehended.
"Large scale modules working on behalf of militants were also busted and those arrested remain in judicial custody," he said.
The Director General of Police  (DGP) said: "stone pelting and law and order engagements came down to a drastic level."
"We admire youth for not disrupting law and order situation," he said.
The police chief said security forces had caused a huge dent to militant groups Lashkar-e-Toiba and Jaish-e-Mohammad by "neutralizing top leadership."
He said while Panchayat Elections were held successfully, there was no poll-related violence in the ongoing Parliamentary elections in Jammu and Kashmir.