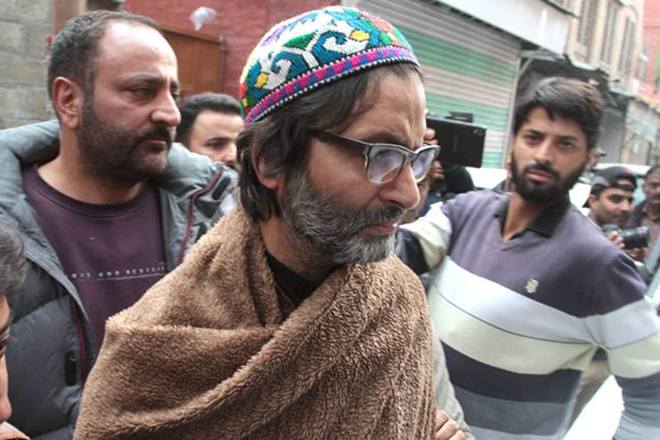 Srinagar: Incarcerated Chairman of Jammu Kashmir Liberation Front (JKLF) Muhammad Yasin Malik, who was on Wednesday presented before a special National Investigation Agency, court at Delhi today said that "concocted cases" and prolonged detentions cannot break our resolve and I will keep striving for freedom till my last breath, party's spokesman said in a statement issued to news gathering agency GNS.
The party said that Chairman was remanded to judicial custody till May 24.
Spokesman said that Malik was shifted back to Tihar Jail after court hearing.
"JKLF chairman was arbitrarily shifted to Delhi from Kot Balwal jail, Jammu on April 9 where he was lodged under draconian PSA, slapped on him on 7th March 2019. He was arrested by NIA on the same day in a politically motivated and concocted case of 2017 in which more than dozen Kashmiri leaders are already languishing in Tihar Jail. He was remanded for questioning till 22nd April and taken to NIA headquarters," the spokesman said
"JKLF chairman refused to budge before the NIA bullying and obnoxious attitude and started a hunger strike against it. After many days when his health deteriorated he was secretly shifted to Ram Manohar Lohia Hospital in Delhi by NIA. He was kept in a dilapidated room, handcuffed wherein authorities tried to force him to break his fast but failed to do so," he said.
The JKLF spokesperson added: "In the meantime, Yasin Malik's counsel advocate Sumit Koul approached court to allow a meeting. NIA lied before the court and informed the court that Yasin Malik was lodged at some safe house outside Delhi. Court ordered NIA to allow Yasin Malik's meeting with his counsel and the said meeting was scheduled on 20th April 2019. It was this court order that in fact forced NIA to reveal the truth about Yasin Sahib and his continuing hunger strike."
"Koul was allowed to meet him on 20th April and on the same evening, a magistrate was brought to the hospital that remanded Yasin Sahib on a judicial custody till 24th April and ordered NIA to shift him to Tihar Jail. JKLF chairman finally called off his protest hunger strike after 12 days and was shifted to TIhar Jail," he said.
Meanwhile, in a message sent out from court, JKLF chairman has said that "freedom movements and freedom fighters do not fear concocted cases and frivolous charges".
These tactics have always failed and are bound to fail in future too, he said, according to the spokesperson.
"Unity of Kashmiris under Joint Resistance Leadership (JRL) and unparalleled resistance defeated the nefarious designs of the fascist rulers and what we are seeing today is actually their frustration which they are displaying by using their institutions like NIA to achieve their political goals," Yasin Malik said.