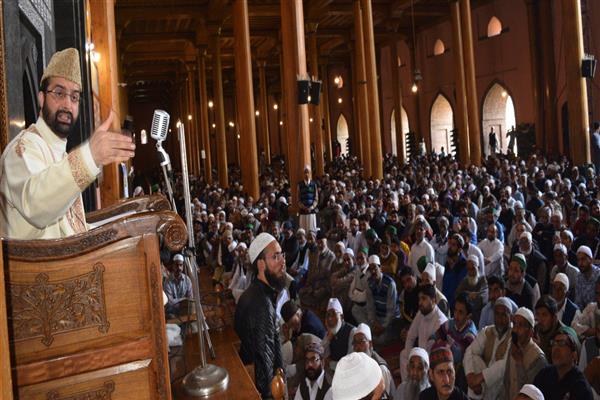 Srinagar: Hurriyat Conference (M) chairman Mirwaiz Umar Farooq said that people mostly staying away from the electoral process has peacefully conveyed clear message to Government of India (GOI) that people here want a serious political initiative towards the resolution of lingering Kashmir issue and that the people and the leadership will support all initiatives that are aimed at addressing it.
Srinagar Parliamentary constituency, which went to polls on April 18, registered a lower turn out of 14 percent. Srinagar recorded the lowest at 7 percent.
Addressing the congregational Friday prayers at the historic Jamia Masjid, Mirwaiz said that he has time and again reiterated that the Kashmir issue that since past 70 years between India and Pakistan deserves serious political handling but all the successive regimes that ruled India and Pakistan so far have failed to resolve it.
He  said that it's not that people of Kashmir don't believe in democratic practices that electoral processes entail or don't believe in its empowerment but people want to understand to what end do they participate?
Has it in any way changed anything on ground for them. Has it helped in ending the uncertainty in our lives? Has our true situation ever been conveyed to people in India or any effort made in that direction?
Expressing concern over the suspension of cross LoC trade he said it's extremely unfortunate that instead of enhancing people to people contact as families of both sides of LOC stand divided and improving trade and other ties, even whatever little had been achieved since Vajpayee time is being blocked and stopped. Such measures for short term gains come at a huge price that people of the subcontinent pay for long term peace and progress.
Mirwaiz said on the other hand repressive measures are increased such as highway closure, daily Internet bans, warnings to government employees, crackdown on political and religious organizations or the use of NIA to harass and intimidate Kashmiri's. Every other day summons are sent to people from different segments of society.