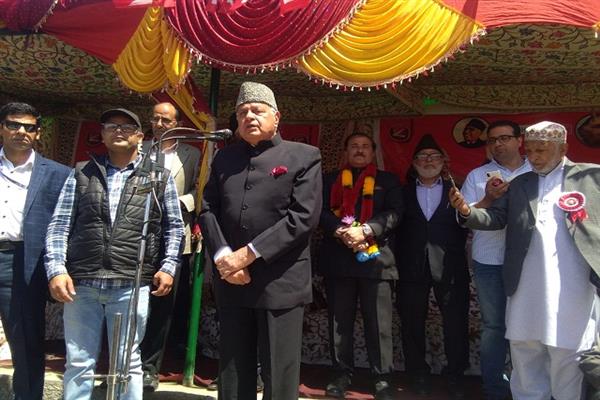 Srinagar: Jammu and Kashmir National Conference President Dr. Farooq Abdullah on Wednesday asserted that dialogue between India and Pakistan is the only way to resolve the protracted issue of J&K.
Addressing a public gathering at Palpura, Idgha Party president Dr. Farooq Abdullah said that the issue of Jammu and Kashmir is not a consequence of lack of development rather the issue is political in nature.
"The issue has held hostage the development of the sub-continent. Our party has all along maintained that the dialogue between the two nations affords a way out," he said.
Party president while appreciating the Pakistan PM Imran Khan for his statement wherein he has cast off war as the option between India and Pakistan, and impressed for dialogue to solve J&K said:
"These words are coming from the PM of our neighboring country, a former cricketer. However on this side our PM Modi is still speaking the language of a tea seller. National Conference too vouches for a time bound result oriented dialogue between India and Pakistan; we firmly believe the increased bonhomie between India and Pakistan will usher in a new era of peace and prosperity in our state and in the sub-continent in general," Abdullah said
"The issue of J&K has been lingering since 1947, how long shall our people suffer? No sooner we impress for a political solution of our state, we are out rightly tainted as anti national. This has to stop. The government has to see what holds good for the greater good of the country and the sub-continent at large. The BJP led government at centre is using Kashmir to leverage its poll prospects elsewhere in the country. The trend should stop as it can have serious ramifications for the country's unity and integrity," he said.