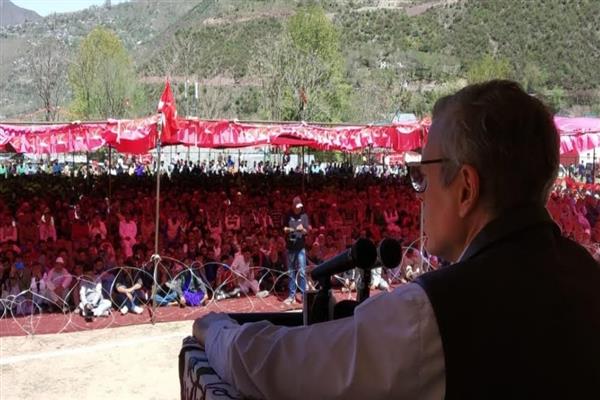 Srinagar: National Conference (NC) vice President Omar Abdullah on Sunday asserted that BJP and Peoples Conference (PC) were two faces of the same coin.
He said these forces were hell bent to obliterate the special status of the state are coming forth holding lotus and Apple in their hands saying that people across the state should beat their nefarious designs by actively participating in the ensuing Parliament elections.
Addressing a massive election campaign rally at Uri, Omar Abdullah said: "We are not like any other state of India. We have our own flag, our own constitution. Today our state is facing onslaught on its special status from all sides. Forces as are inimical to the unity and integrity of our state are coming in different hues and some are holding lotus in their hands and some Apple. I caution you again about their nefarious designs. Their sole agenda is to obliterate the every spec of our special character."
Omar said that the biggest problem that the state is facing is that of unemployment and any stride on Art-35 A will have far reaching consequences on the employment prospects of our youth.
"Art 35-A confers upon us certain rights vis-à-vis employment and scholarship. Nonetheless, BJP-RSS and their cronies in the state want to snatch this right from our educated youngsters. The situation of unemployment is already grim in our state and doing away with Art 35-A will inadvertently put the future of our children in doldrums. In order to ensure our children a secure future we have to remain vigilant of these BJP-RSS cronies."
"Today people from PC and PDP are coming to you for votes. But people of Uri are asking them as to where was their concern when people were fleeing Uri following border skirmishes; what happened to their promise of building roads. Where was their concern when our traders, students were being attacked upon across parts of country after Pulwama tragedy. We have seen how Sajad flaunted brotherly relations with Modi. He has many a times said that Modi was his elder brother. Why didn't he ask his elder brother to ensure safety of our traders, students across the country?" he said.
While flaying BJP-PDP-PC combine for berating and betraying people's mandate, Omar asked, "What happened to the promise of getting back power stations? How many youngsters were you able to give employment? All PDP-PC did while in government was to serve their own interests. We only saw Sajad throwing tantrums for getting plush cabinet posts. Why didn't Sajad ask his elder Brother Modi to lessen the tyranny which was unleashed on people during 2016? We didn't see him raise any voice for the people then."