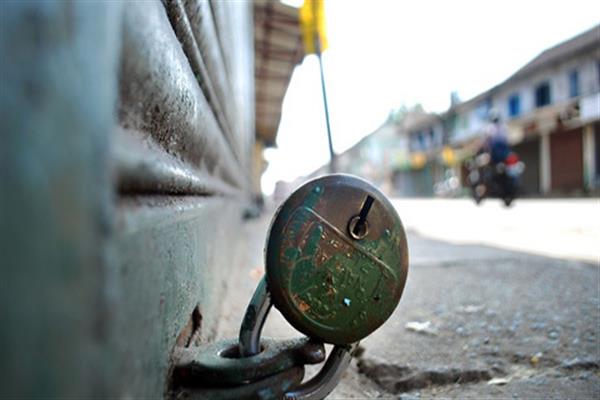 Srinagar: Life was crippled in Kashmir valley on Sunday due to a strike called by Joint Resistance Leadership (JRL) against ban on Jammu and Kashmir Liberation Front (JKLF) and crackdown on Jamat-e-Islami (JeI) after Central government declared it unlawful organisation.
However, majority of vendors have put their stalls at weekly Sunday market near here though there were no customers due to strike.
All gates of historic Jamia Masjid, stronghold of moderate Hurriyat Conference (HC) chairman Mirwaiz Moulvi Omar Farooq were closed yet again to prevent any demonstration.
Shops and business establishments which remained open on Sunday were closed and traffic was off the roads in summer capital, Srinagar and its adjoining areas. However, private, besides some public transport vehicles, including three-wheelers, cabs and mini buses were plying on some routes. A number of shops, particularly selling vegetables, meat and chicken besides fruit vendors were open on the outskirts.
The 3-km-long Sunday market from Radio Kashmir, Srinagar crossing to Hari Singh High Street (HSHS), including historic Lal Chowk, Gantaghar and Amira Kadal, was open. Majority of vendors, selling different items have set up their stalls on both sides of the road. However, the customers were missing due to strike.
A number of vendors were seen leaving for home this afternoon.
"We were doing good business on Sundays as customers from different parts of the valley, besides tourists, used to come for shopping. But today there are no customers due to the strike, so we have decided to leave," the vendors said.
The JRL had called for general strike on Sunday against ban on JKLF and JeI.
JKLF Chairman Mohammad Yaseen Malik was arrested last month after Union Home Minister Rajnath Singh directed the Governor administration to go tough against pro-freedom groups following fidayeen attack on CRPF convoy in which 40 personnel were killed on February 14 at Awantipora in Pulwama on the Srinagar-Jammu highway.
The JRL alleged that the sole motive of banning JKLF like JeI is to crush the Kashmiris through use of force.
A large number of security forces and state police personnel have been deployed in the Jamia Market since early this morning to prevent people from entering the worship place.
All gates are closed and no prayers were offered, locals alleged. This is the second time the Jamia Masjid was closed for devotees.
Business and other activities were affected in this and other north Kashmir towns and tehsil headquarters, a report from Baramulla said. Traffic was also off the roads though private vehicles and some passenger vehicles were plying in the civil lines.
Additional forces had been deployed on all bridges over river Jhelum, connecting old town with civil lines. Security forces and state police personnel were deployed at different places, including Pattan, to prevent stone pelting on Srinagar-Baramulla road.
However, in Hajin and Sopore, life remained paralysed for the third day today due to strike since March 20 when two militants each were killed by security forces in separate encounters.
A report from Anantnag said that shops and business establishments remained closed in this and other major towns and tehsil headquarters in south Kashmir. However, in Shopian life remained paralysed since March 20, when two militants were killed by  forces in an encounter.
Reports of strike were also received from central Kashmir districts of Budgam and Ganderbal.
The Union government on Friday declared JKLF, led by Muhammad Yasin Malik, an "unlawful association" under the provisions of the Unlawful Activities (Prevention) Act, 1967. Malik was arrested and booked under Public Safety Act (PSA) immediately after fidayeen attack on CRPF convoy at Awantipora in which 40 personnel were martyred and several others injured. Malik has been lodged in a Jammu jail.
About 300 JeI leaders and activists, besides both the factions of Hurriyat Conference (HC) were arrested since the Pulwama attack.