Srinagar: Scores of activists of Er Rasheed's Awami Ittehad Party on Saturday marched in Handwara against the ban on Jama'at-e-Islami and "illegal detentions" all across valley.
In a statement, a spokesperson of AIP said that the protesters holding play cards were seeking revocation of ban and an end to "state suppression".
Addressing the gathering of protesters at main chowk Handwara Rasheed urged Government of India to reconsider its decision and not to choke the space for voice of dissent.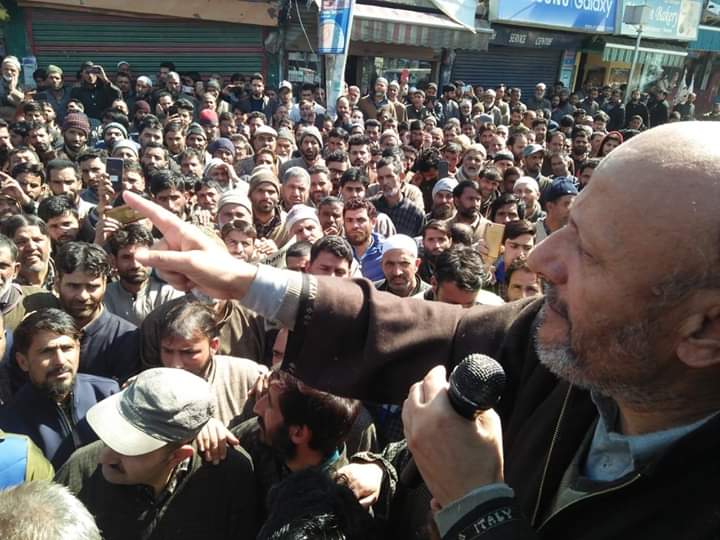 He said "Jama'at-e-Isami is not an underground organization and has been operating since decades in the entire state. "It is known to all that neither Kashmir issue is creation of Jama'at-e-Islami, nor do Kashmiris seek resolution to Kashmir issue because Jama'at-e-Islami wants them to say so."
He said that while New Delhi always talks of peaceful resolution to Kashmir dispute but whatsoever is being done on the ground is nothing but an act of "muzzling all those voices who dare to speak truth and talk about resolution to Kashmir dispute".
"If New Delhi is adamant to choke the space for peaceful political activities it will yield nothing except anarchy and distrust between New Delhi and Srinagar."
Rasheed appealed Prime Minister Narendra Modi not to continue with the ongoing Kashmir policy and said that sooner or later New Delhi has to talk to Kashmiris for a peaceful and durable resolution to the dispute as resolution to dispute will benefit not only Kashmiris but the entire subcontinent.
He said: "Those crying of radicalization should realize that if political space is constantly choked, those not believing in peaceful struggle and resolution through dialogue get stronger. Jama'at-e-Islami has contributed much not only in education sector but in social sector also and party had never indulged in communal politics, as such banning it is not a decision based on justice."