Srinagar: Saudi Crown Prince Mohammad bin Salman on Wednesday met President Ram Nath Kovind at the Presidential Palace in Delhi during his day-long official visit to India.
The prince, who was accorded a ceremonial reception at the Rashtrapati Bhavan, said on the occasion that Riyadh wishes to maintain and improve ties with Delhi "for the sake of both countries".
"With the leadership of the president and the prime minister, I am sure we can create good things for Saudi Arabia and India," Prince Mohammad said, according to Asia News International.
"I admire PM Modi. He is the elder brother and I am his younger brother," he added.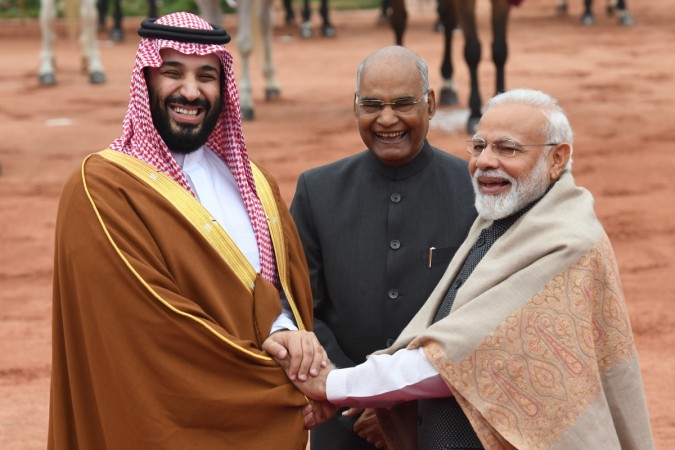 Describing Indian people as "our friends", the crown prince said that Indians have helped build Saudi Arabia for 70 years. "During this trip we will show few examples of work Saudi people did in India," he said.
Prince Mohammad is accompanied by an entourage of ministers and a delegation of businessmen.
After the reception at the palace, Prince Mohammad will hold a brief meeting with Indian foreign minister Sushma Swaraj.
He is then expected to hold a meeting with Indian Prime Minister Narendra Modi followed by delegation level talks. According to India Today, the two leaders may discuss ways to enhance defence ties, including holding a joint naval exercise.
Both countries are expected to sign five agreements in the fields of tourism, investment, housing and communications today.
A joint statement will be issued by both sides around 1pm in which India is likely to bring up the issue of "cross-border terrorism", according to The Indian Express.
The crown prince, known as MBS for short, arrived in India on Tuesday night after visiting Pakistan. He was welcomed at the airport by Modi, who embraced him in a characteristic bear hug.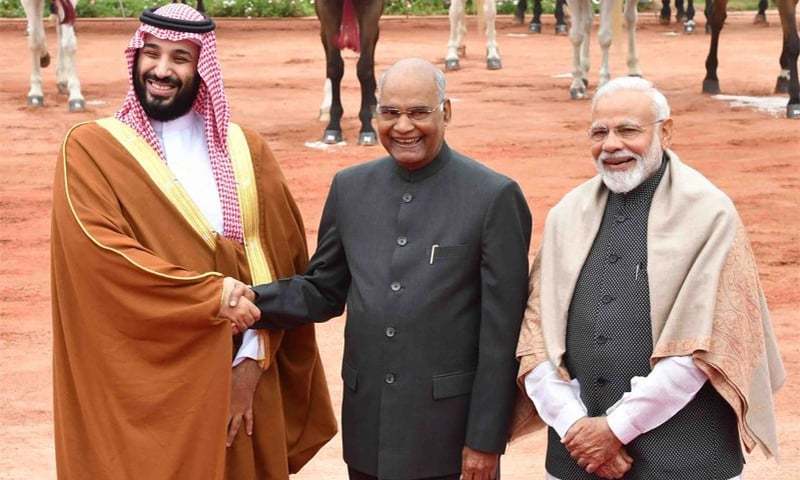 Ties between India and Saudi Arabia, where millions of Indians are employed as migrant workers, have strengthened since Modi visited Riyadh in 2016 for the signing of a Memorandum of Understanding (MoU) on cooperation with intelligence-gathering on money laundering and terrorism financing.
The two countries' two-way trade totalled $27.5 billion last year. India describes Saudi Arabia as a "key pillar" of its energy security. It provides about 17 per cent of India's crude oil and about a third of its liquefied natural gas. The relationship may be more key as a deadline nears for India to comply with United States sanctions against Iran, India's largest oil provider.