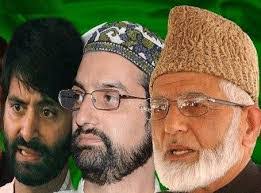 Srinagar: Joint Resistance Leadership (JRL) said that ruling and political class in India should realize the fact that videos, news and images of Kashmiris being beaten, vandalized, looted and humiliated in India, will only promote hatred between humans and push more youth from Kashmir to the armed path and hence promote violence.
"When you ruin career of young scholars and students by beating, humiliating and vandalizing them and instead of penalizing any attacker, reprimand and punish those attacked by suspending them from colleges and veracities, what alternative way are you leaving for these scholars but to tread the path of rebellion", asked JRL.
JRL comprising of Syed Ali Shah Geelani, Mirwaiz Muhammad Umar Farooq and Muhammad Yasin Malik while condemning the unrelenting attacks on Kashmiris in various Indian cities, said that attacks on Kashmiri students including female students in different colleges, universities and institutions across India, business men, tourists and people from other walks of life including government employees is in every respect a dangerous trend that is promoting hatred between humans.
"From last one weak, Kashmiri students, businessmen, tourists are being beaten ruthlessly by unruly mobs, shops and business centers are being looted, vandalized and humiliated in broad day light with police in many cases watching as mute spectators," they said.
"This widespread, organized unilateral violence against Kashmiris is apparently instigated by the ruling regime in India as no one till date has been penalized or arrested for these hateful attacks".
JRL said that when announcements of vengeance come from as high as Prime minister's office, home minster and other political class, when a sitting governor of Meghalaya Tathagata Roy is tweeting publicly to boycott, rape, massacre and kill Kashmiris and he is not even asked to restraint and when TV channels dying for their TRP are let free to spread hatred and venom, how can these ugly attacks be termed as mere acts of resentment and anger.