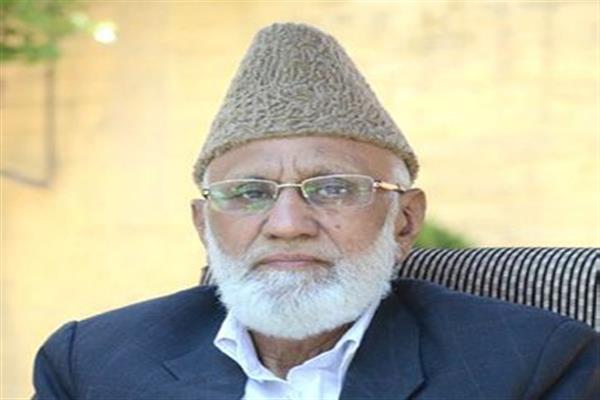 Srinagar: Tehreek-e-Hurriyat (TeH) Chairman Mohammad Ashraf Sehrai has strongly condemned the arson, vandalism and brutal assault on Jammu Muslim community particularly on Kashmiris, and urged the authorities to take immediate measures to ensure the safety, so that minorities and especially Kashmiris in Jammu and outside valley aren't intimidated or harassed.
Sehraie called recent attacks perpetrated by some groups against Kashmiri and local Muslims in Jammu only tend to increase the regional tension in the disputed state of Jammu Kashmir. Don't use Tit for Tat as an excuse to harm, attack and harass Jammu Muslims he said,
While appealing restrain from all sides added that there is no justification to attack vehicles and other properties of a particular community or to attack stranded Kashmiris for none of their fault.
Expressing anger and anguish over hooliganism by miscreants, Sehraie has urged law enforcing agencies and civil administration to ensure protection to all sections of people without being biased. He said no one other than Kashmiris can feel the pain of bereaved families better than them, as we have been passing through this turmoil since decades.
He said this perpetrated violence against the Muslims is a convenient tool for many parties for the upcoming general elections.
Sehraie said that Muslims are feeling vulnerable in Jammu and also accused "fanatic elements" of selectively targeting the community for nothing other than the Tit for Tat, when Kashmiris history is testimony that we never celebrated nor rejoiced death and destruction even for the enemies.