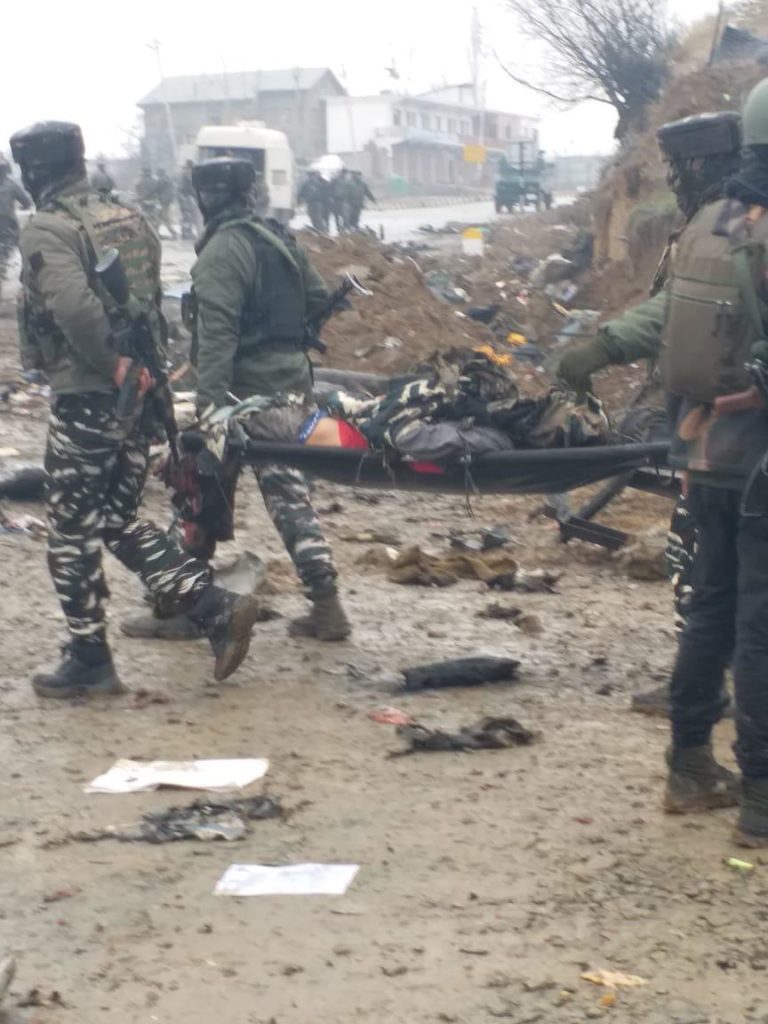 Srinagar: In the deadliest attack on forces in Jammu and Kashmir, 45 paramilitary CRPF men were killed while 38 others were injured in a car bombing Lethpora area along the Srinagar-Jammu highway in south Kashmir's Pulwama district on Thursday afternoon.
An official of the CRPF said that a "suicide car bomber" rammed an explosive-laden vehicle into the bus near Lethpora at around 03:15 pm, resulting into an intensive blast in which 45 paramilitary personnel were killed.
"While a total of 44 CRPF men belonging to different battalions were travelling in one vehicle, 39 others were travelling in another one," the CRPF official said. He said that the CRPF men belonged to 92, 17, 54, 82, 61, 21, 98, 118, 76, 45, 3 and 176 battalions. He said while none from the bus carrying 44 CRPF men survived, one of the injured among those travelling in another bus succumbed. The other injured are being treated at the army hospital at Badamibagh. Sources said that intensity of the blast was such that its sound was heard around 10 kilometers radially.
Jasih-e-Mohammad (JeM) militant outfit identified the bomber as Adil Ahmad Dar alias Waqas Commando and he is also believed to be killed even though there was no official confirmation in this regard so far.
Following the blast, the traffic on the Srinagar-Jammu highway came to standstill and when the reports last came in, the road was still closed. Soon after the blast, government forces launched the searches in the entire area.
A police officer said forensic experts of have taken samples even as investigations have been set into motion. The officer also confirmed that today's attack was the deadliest in the attack.
"Even though there were major attacks in the past also like Badamibagh and assembly but this is the first attack in which there have been such a number of causalities," the officer said.
Regarding the vehicle, the officer said that it seems to be a Scorpio or jeep. "Investigations are underway in this regard," the officer said.
Inspector General of Police (IGP), Kashmir, SP Pani said that it was a gruesome militant attack.
"The investigations have been taken up. We have started gathering the sequences how this happened and the people behind it will be brought before the law," the IGP said, adding, "We are ascertaining chain of circumstances in this incident." (GNS)