Srinagar: The three militants slain in a gunfight with government forces on Monday in central Kashmir's Budgam district have been identified.
The slain include Zahid Ahmad, son of Nazir Ahmad, a resident of Drabgam Pulwama; Tawseef Ahmad Yatoo, son of Abdul Aziz Yatoo, a resident of Ghadbug Lassipora; and Syed Rabani son of Syed Hussain Shah resident of Nazneenpora Shopian.
Bodies yet to hand over to family.
After daylong heavy exchange of gunfire during which explosives were also used, three militants were killed on Monday in Zinpanchal forests in Charar-e-Sharief area of Budgam district.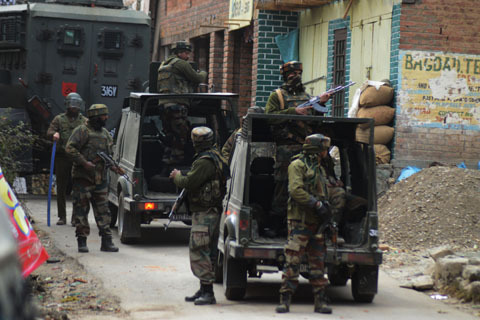 The army's northern command tweeted late in the evening that "three terrorists" had been killed in the operation. The tweet said that the joint operation (of teams of government forces) was still in progress and there was no mention of recovery of any militant's body.
The encounter, according to police sources, started in the wee hours of Monday after militants who had taken shelter in a hideout in the dense Zinpanchal forests fired upon army personnel.
Police said that after receiving strong inputs regarding presence of militants in the area, army soldiers of 53 RR, police's Special Operation Group (SOG), and paramilitary forces cordoned off the area.
"When searches were being carried out in the forest area, the militants who had taken shelter in a hideout opened fire on the forces. The forces retaliated, resulting in an encounter," police sources said