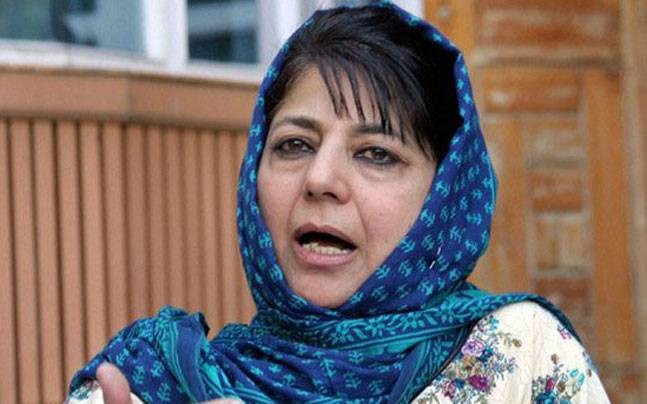 Srinagar: In a shocking revelation, Peoples Democratic Party (PDP), President, Mehbooba Mufti has claimed that certain "turncoats" are telling Delhi to constitute the notorious Ikhwan (pro-government militia active in mid 1990's-2000's) so that they can be used both "politically and to tackle the situation" in Kashmir.
"There are certain turncoats, I don't want to name them, who are trying to tell Delhi that let us constitute Ikhwan and use them both politically, and on the ground, to tackle the situation (in Kashmir)," Mufti told The Indian Express newspaper during an interaction.
She revealed this in response to a questions that whether the return of the pro-government militia Ikhwan in the Valley was in the offing.
"There have been three deaths during the last five months which are not accounted for. Who killed them? This used to happen earlier… unidentified gunmen would come and kill. Maybe they were overground workers, and maybe, politically, they belonged to the other side. So this political Ikhwan, as well as the security Ikhwan, is being advised by some people in Kashmir…," Mehbooba said.
Ikhwan, a pro-government militia founded in mid-1990's, gained notoriety for unabated killings, arsons and plunder.
She said that it was not possible for her government in 2016 to prevent situation from spiraling out of control following the killing of Hizbul Mujahideen commander, Burhan Wani.
"I can't say that I could have prevented it because the situation was so volatile… When Burhan Wani was killed (July 8, 2016), so many people came out on the streets, they attacked Army camps, police stations, knowing that there is going to be retaliation," Mehbooba said
"It is not about Burhan Wani or a militant, it is the idea behind Burhan Wani that we need to address, and only that can help us".
She said that there here have been encounters where militants have been killed, but the idea still exists.
"I have seen many mothers who now don't cry when their children are killed, they celebrate it. They are not celebrating the death of their sons, they are celebrating the idea behind it. That is a very dangerous thing," Mehbooba said.
The former chief minister further said that it was the best time to open dialogue with the Pakistan to resolve Kashmir issue.
"They keep saying that Imran (Pakistan PM Imran Khan) is a proxy for the Pakistan army. If they think so, then it is better that they talk to him, because then the army and Imran Khan will be on the same page. This is an opportunity for our country to reach out to them," she said.