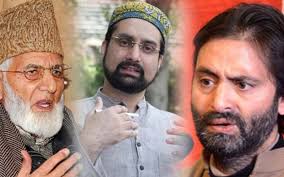 Srinagar: Joint Resistance Leadership (JRL) has strongly denounced the sedition charges and filing of charge sheet in 2016 case by the Delhi Police against Kashmiri students pursuing studies at  Jawahar Lal Nehru University (JNU) in 2016  including Aqeeb Hussain, Mujeeb Hussain, Muneeb Hussain,Umair Gul, Rayees Rasool, Khalid Bashir, Basharat Ali said the charges will have serious consequences on the academic and future carrier of the students and demanded immediate withdrawal of all charges.
JRL, comprising Syed Ali Geelani, Mirwaiz Umar Farooq, and Muhammad Yasin Malik, said the students only participated in the programme organized by JNU students Union in 2016 to condemn the undemocratic act of Government of India under which the son of soil Muhammad Afzal Guru was hanged in Tihar Jail under shadowy circumstances without even informing his family members and in contravention to all established norms and rules.
The leaders said to book the students in 2019 clearly exhibit the vote bank politics of the ruling dispensation. They said to harass the Kashmiri students pursuing studies outside Jammu and Kashmir is not a new practice, earlier in many universities and colleges Kashmiri students have  being harassed  even beaten up , forcing them to drop the studies incomplete and return home
The leaders said that one the one hand worst kind of atrocities are being unleashed on the people of Kashmir and on other the carrier of Kashmiri students outside the state is being ruined on One pretext or the other.
The JRL appealed International Human Rights Organizations ICRC, Asia Watch, Amnesty International and other humanity loving nations to take serious notice of these nefarious practices carried out to ruin the carriers of the Kashmiri students.