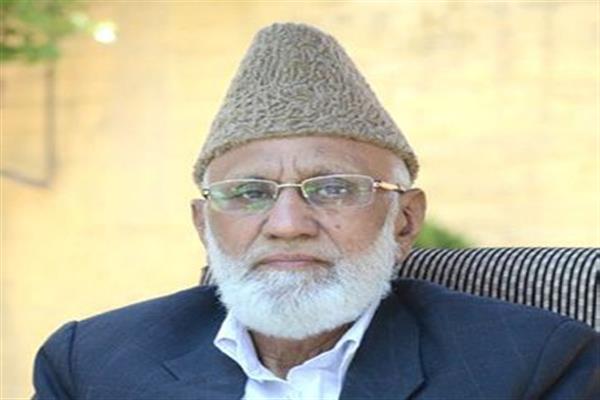 Srinagar: Tehreek-e-Hurriyat Chairman, Mohammad Ashraf Sehrai has said that the people of Kashmir are neither misinformed nor this 'indigenous political freedom struggle' is driven by social media platforms.
He was reacting to the army Chief General Bipin Rawat's statement in which he had said 'Kashmiri youth are being radicalized with misinformation by social media'.
"The General is deliberately issuing such statements and labeling educated Kashmiris as radicalized just to hoodwink the people of India," he said, adding that "Army chief should be in know of the fact that people of Kashmir were demanding for their right to self determination peacefully since 1947 when such media platforms even doesn't exist".
He said before labeling Kashmiris as radicalized, General Rawat should realize that Kashmiri nation was not fighting any nation or any political party but striving for its just rights, which had been promised to them seven decades back by the international community including India's first prime minister unfortunately, which India had so far dealt with 'brute force' since decades.
"The Indian military and political leadership had no other option but to come to the grips of the reality that Kashmir issue cannot be dealt with military might or with threats but by involving all parties to Kashmir dispute in a meaningful and result-oriented dialogue process, which could also help to end political uncertainty in entire South Asia," he said.
Furthermore, Sehrai anguished over the frequent Cordon-and-Search-Operations (CASOs), terming it as a collective punishment.
Condemning the frequent door to door search operations and arresting youth in south Kashmir districts Kulgam, Shopian and Pulwama, Sehrai said, "This is the collective punishment inflicted on the people in the winter months that deserve all condemnation."