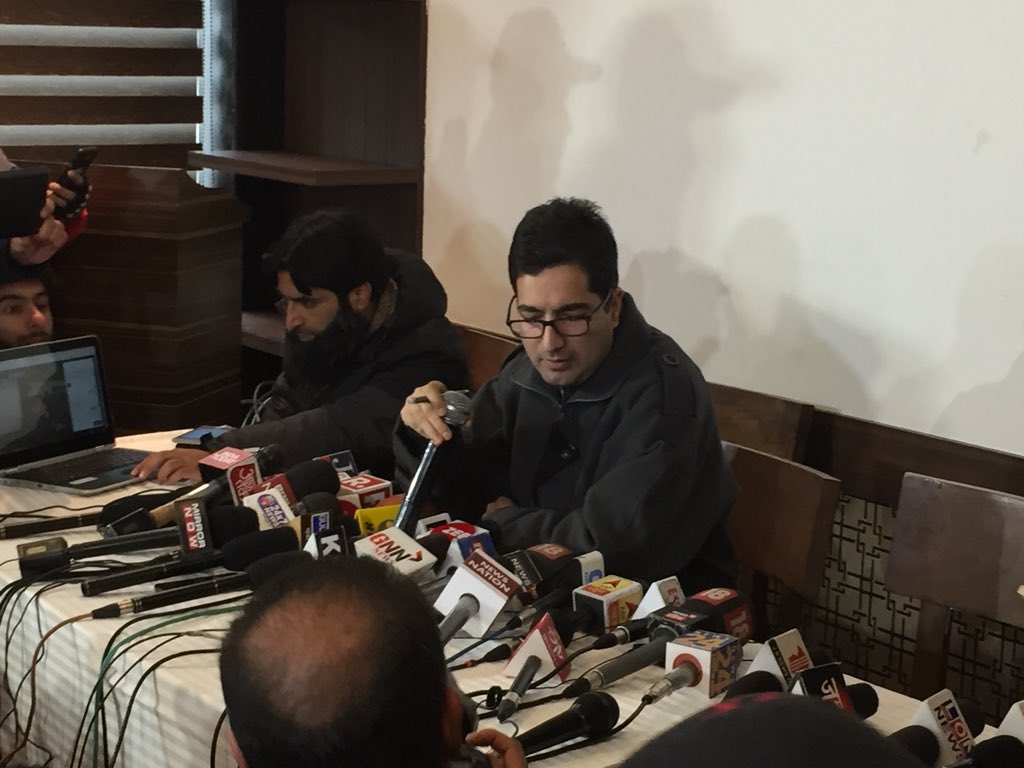 Shah Faesal Live:
"After serving for around nine years in the IAS I have decided to quit. My resignation has to do with what has happened outside,"  "It is time to speak up, this is small act of defiance."
I see myself as a addition and not as an alternative to… (mainstream politics in #Kashmir), will use narrative that echoes sentiment of the people, says..
The rise of mob lynching nationalism in India has led to my discomfort. I'm disgruntled the way institutions like RBI, CBI, NIA have been misused. Due to service rules conduct I could not have spoken about these issues. I feel releaved by speaking up,"l in press conf.
We have bad experience of past. But I have the qualification that deep state can't use me but I can use them, says Shah Faisal at a maiden presser after quitting the job.
Mainstream politics have to be reimagined inand that why I won't join any political party for now and go to ground to people, say but will take the decision once I get feedback from people.
"Taboo words like azadi and RSD, we should talk about it. Let mainstream parties open up to the vocabulary of Azadi, right to self-determination. You can't deal with political problem militarily,"
Will like to use my skills of governance working in a system, and politics of #Hurriyat in #Kashmir doesn't allow me to utilise my skills as of now,
Want to give message of optimism and hope
"As of now I have no plans to join any mainstream political party. We do need well meaning people in electoral politics. We need to bring about a change,"
The rise of lynch mob politics targeting religious and ideological minorities a source of dejection for me,
Absence of political initiative killings of youth in Kashmir reason for resignation,
Wish to make an appeal to people of India to refuse people of #Kashmir,
Any attempt to play one region of state with another needs to be confronted…A culture of hate and intolerance is being used for electoral gains in India"
I am a man from the system and I would be happy to change things by being in the system. Hurriyat doesnt give me that opportunity as they don't believe in electoral politics"
Kashmiri pandits are important part of Kashmir's social and cultural fabric,
"It is time to disrupt the politics in India and in Kashmir, " . "I'm deeply impressed by Imran Khan  Arvind Kejriwal but we live in a conflict zone. I'd be happy to replay Imran and Kejriwal,
In #Kashmir the political parties are dealing with municipal problems and the military is dealing with political problems: IAS topper Shah Faesal
Denial of justice, lack of political initiative from Delhi. Wish to remind the central government that right to life of Kashmiri young lives must be respected,"
Mainstream parties should open up to vocabulary in which some words considered are considered taboo, words like Azaadi, RSD (Right to self determination), Plebiscite