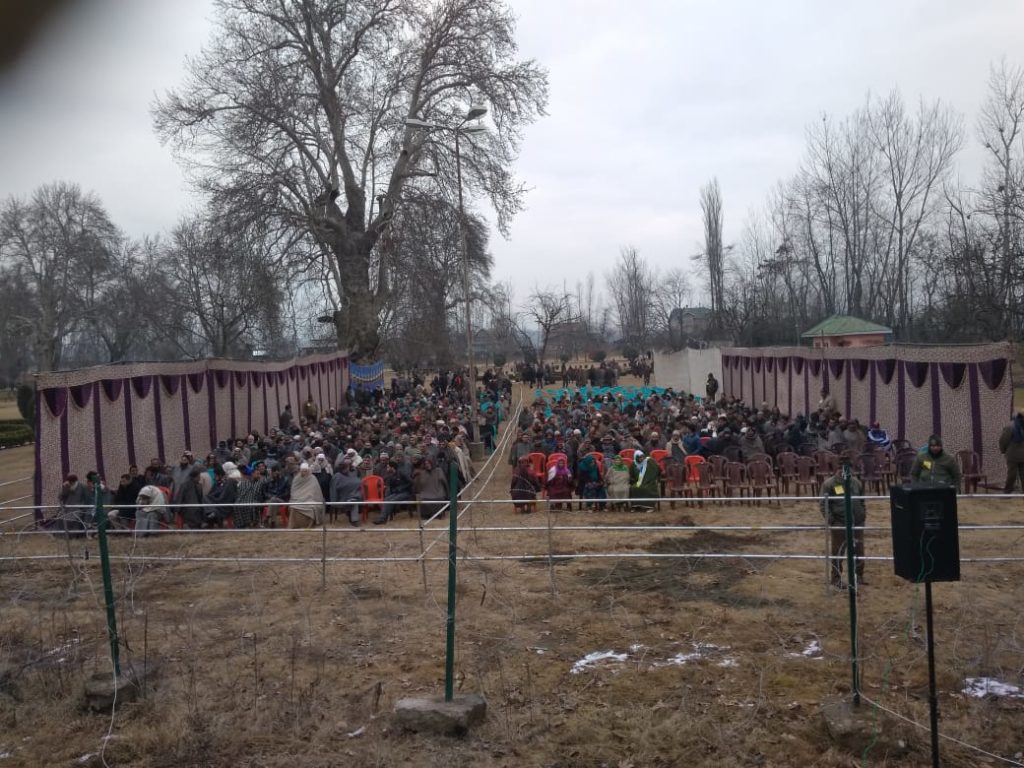 Srinagar: Peoples Democratic Party, President, Mehbooba Mufti has admitted that forging an alliance with right wing Hindu Bhartiya Janta Party (BJP) was tantamount to taking a cup of poison.
However, she claimed that PDP did that only to bring Jammu and Kashmir out of the present volatile situation.
Besides, the former chief minister appealed youth to join PDP, saying that her party was "free of garbage now".
"I want to invite the educated youth who are interested in resolution of Kashmir issue to come and join us," Mehbooba said, adding that "All the garbage in the party has gone out with the wind".
Mehbooba said this while talking to reporters on the sidelines of the function organized on the third death anniversary of her Late father, Mufti Muhammad Sayeed at Bijbehara.
Asked about her visits to houses of slain, she said it is not for the first time she is visiting the bereaved families. "During my tenure as Chief Minister, I visited the houses of slain policemen, SPOs and JK Bank security guards also," she added.
"Now, I went to visit the families of militants as they were being harassed and I thought my visit will send a message to the government so that the families will not be harassed in the future," she added.
Meanwhile, while addressing a gathering, Mehbooba sought apology over her "toffee and milk" remarks, saying that the remarks she had made in the year 2016 was a pain from the heart of a mother.
Earlier, while addressing a presser Mehbooba who was accompanied by Union Home Minister Rajnath Singh in 2016 had said that "had they (youth killed in 2016 agitation) gone to camps and police stations to buy toffees and milk".
PDP president said the toffee and milk remarks she had made was a pain from the heart of a mother which she expressed.
"I am like your mother and some youth who were being pushed to get killed was paining me therefore as a mother I used such words to express my pain," she said, adding that she was concerned about her children. "Doesn't a mother use harsh words for her children for their wellbeing," she asked, saying that people from Kokernag, Kulgam would remember that how her party saved them from bonded labour.
However she said "in case my remarks have hurt the sentiments of people then I seek apology to them."
Lashing out at Prime Minister Narendra Modi, PDP said that Modi has wasted his mandate vis-à-vis Kashmir as well as the country.
"PM Modi had been repeatedly saying that the issue of Jammu and Kashmir will be resolved while following the footprints of former PM, Late Atal Bihari Vajpayee but unfortunately Modi wasted his mandate vis-à-vis Kashmir and nation
Stating that dialogue is the only way out to resolve issues, Mehbooba said talks with people including pro-freedom leaders and Pakistan is mandatory for resolving Kashmir issue and "until Pakistan will not be taken on board, creating atmosphere for the talks is not possible," she added.
She added that forging an alliance with BJP was only aimed to resolve the long pending issue. "We joined hands with BJP only to resolve Kashmir issue," she said.
However, she said that she was not ready to forge an alliance with BJP following the death of her father in 2016.
"I put forth some demands before BJP prior to forming a new bonhomie that include return of power project, vacate from tattoo ground, Anantnag high ground and Kargil ground. BJP was about to agree the demands but some persons amongst our party who are creating trouble in the party at present went to Nagpur and asked them to sideline Mehbooba and we will go for a new alliance with you, therefore my position was compromised," she said.
Meanwhile, Mehbooba also claimed credit for amnesty announced by her as Chief Minister for stone pelters and handling of Kathua rape and murder case.