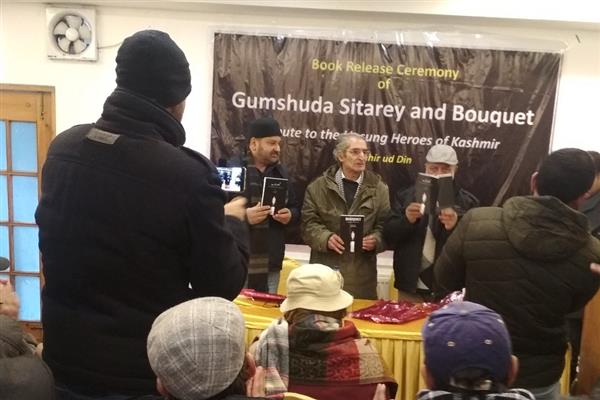 Srinagar: Journalist Zaheerudin's book, "bouquet", was released during an impressive function held in a local hotel in Srinagar.
A galaxy of people including academics, civil society activists, journalists and people from other walks of life participated in the function.
Human rights defender and senior Advocate Parvez Imroz, while releasing the revised edition of Bouquet: A tribute to unsung heroes of Kashmir and Gumshuda Sitare by senior journalist Zahir-ud-Din, said that remembrance is our only weapon to sustain the movement.
While hailing the author for his efforts to compile the book on unsung heroes, Imroz said that a similar book was "needed to expose the collaborators as well".
Earlier, Natasha and Irfan Mehraj both human rights activists and journalist Rashid Maqbool presented review of the books.
The author in his speech paid glowing tributes to the memory of the unsung heroes saying they offered resistance and sacrifices for the cause.
Editor Brighter Kashmir, Farooq Ahmad Wani Professor Hameeda Nayeem, Akhter Mohi-ud-Din's son Hilal Akhter, Masood-ul-Hasan Kanth and professor Ghulam Muhammad Sheikh also spoke on the occasion.
The Bouquet, according to the author, comprises brief profiles of 90 persons who fought Dogra oppression and participated in the struggle post partition of the sub-continent. Five unsung heroines have also been included in the books.
Some of the prominent heroes are GN Gilkar, KH Khurshid, Allah Rakha Sagar, Akhter Mohi-ud-Din, Muhammad Yusuf Khan, Noor Muhammad Sofi, Muhamamd Sultan Khan alais Sule Galdaar.
The Urdu version Gumshuda Sitare has 105 such profiles. Pertinent to mention the first edition of Bouquet was released in 2007.