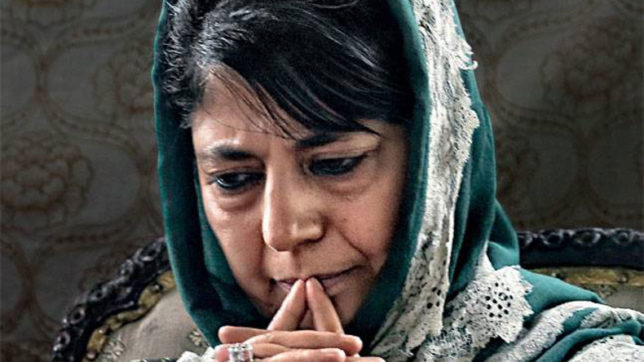 Srinagar: A day after encounter in South Kashmir's Pulwama which left four militants dead, Peoples Democratic Party (PDP) President Mehbooba Mufti made her presence in the interior of South Kashmir's Pulwama district.
Mehbooba, former Chief Minister of Jammu and Kashmir,  met Rubina who was allegedly harassed by police for being a militants sister. While talking to her, Mehbooba questioned harassment of militant families by the forces.
She said that, "won't allow bloodshed and making South Kashmir a battle ground."
According to the statement, Mehbooba visited the shrine at Lassipora Pulwama and interacted with the people, she said that, "People supported for political process don't deserve to be treated harshly."
While objecting to use of force on civilians and harassment of public, she added, "Excessive use of force is responsible for unrest and pushing youth to the gun." She further added that we cannot afford to push our youth to the wall and violence.
On 10th class results Mehbooba said, "Yesterdays 10th class results vindicate the aspirations of youth mostly from south Kashmir. There is an urge for moving ahead and kids have dreams to live upto. We need work collectively to offer a future to our own generation and ensure they stay away from violence and refrain those who push our youth to the wall & violence.