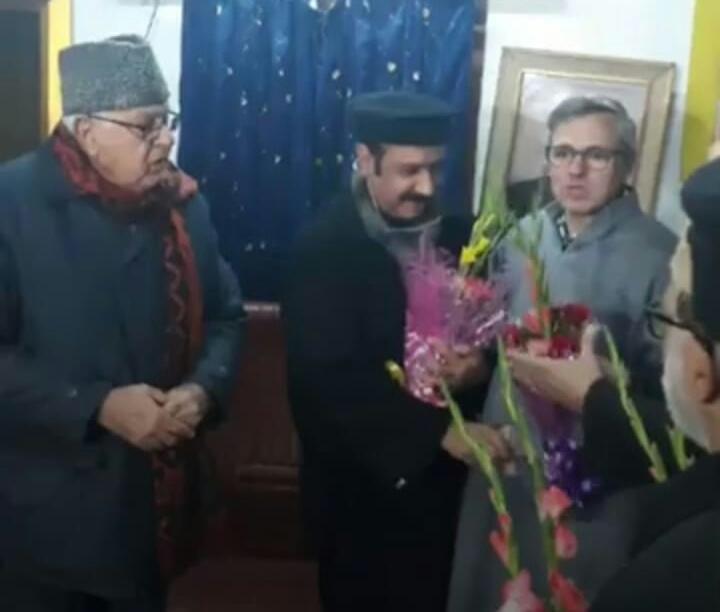 Srinagar:Two senior former Peoples Democratic Party (PDP) leaders Basharat Bukhari and Peer Muhammad Hussain on Wednesday joined National Conference (NC).
The development comes just a day after Mr Bukhari, who is a former cabinet minister in Mehbooba-led PDP-BJP government, and Hussain, ex-Wakf Board chairman, were expelled by PDP on Tuesday for alleged 'anti-party activities'.
The duo joined National Conference in presence of NC president Farooq Abdullah and vice-president Omar Abdullah here on Wednesday.
Mr Bukhari said he did not want to be disrespectful to Mehbooba Mufti that is why he left the party.
'I firmly believe that Ms Mehbooba has grown a lot and it is not possible for me to reach that level. So why should I disturb her that's why I say that I don't want to be disrespectful towards her. So, as a mark of respect, I have left the party,' Mr Bukhari told reporters after joining NC in a function here on Wednesday.
On joining NC, he said, 'I have a frame of mainstream politics and that too of a regional party. I have worked as a minister and where ever I was support to resist, I resisted. And this is the only other regional political party.'
"Where else was I supposed to go," he asked.
When asked why he left PDP, Mr Hussain said he had no other option as the situation had become extreme. "It was very difficult to leave the party and join another. But he had no other option as the situation had become extreme," he said.
He said the promises, which PDP had made with the people during Assembly election campaigning, were not fulfilled.