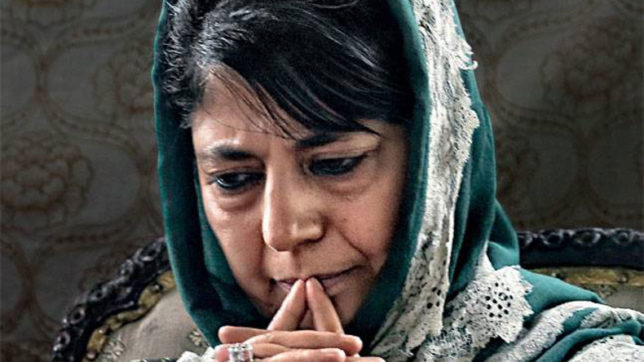 Srinagar: Former chief minister and President PDP Mehbooba Mufti Friday said that the alliance between NC, PDP and Congress is the need of the hour, in order to keep the forces that are hell-bent to divide the state at bay.
Mehbooba was speaking in a seminar titled 'Kashmir – The Way Forward' which was organized by the Observer Research Foundation (ORF), Mumbai on Friday.
"The alliance between the Congress, NC PDP is the need of the hour," she said.
Terming her alliance with the BJP as 'suicide,' Mufti said that her party hoped that PM Modi would start it afresh where Vajpayee left it.
"After the 2014 elections, we joined hands with the BJP. It was suicide, but we put everything on the line because we hoped that Modi will pick up where Vajpayee ji left. Unfortunately, Modi ji could not rise to the occasion," she said.
While beginning her address to the audience, Mufti said that there happens to be a total 'disconnect' between people in Kashmir and Delhi and look 'outwards' for, what she called, as support.
"There is total distrust and disconnect between people of Kashmir and Delhi (Central Government). They look inwards or outwards (outside the border) for support," she said.
Saying that the period between 2002-05 was the 'golden' period of Kashmir, she said that "During the time of Vajpayee, the people of Kashmir thought of him as a leader who cared. Even Pakistan responded positively resulting in reduction of militancy and ceasefire."
"Between 2002-05, it was the golden period of Kashmir, since for the first time the CM of Kashmir and PM of India were on the same page," she added.
Mufti said that with regard to the Kashmir, going back 1947 is not an option, and that there was need to 'move forward.'
"We need to replace the idea of 'Azad Kashmir' with a better idea within the framework of the Indian Constitution. We cannot go back to 1947, we have to move forward," she said, while adding that the better governance was only possible if there was peace.
In regard to the resolution of Kashmir issue, Mufti said that it was for the country (India) to rise up, "reach the Kashmiris and find a solution. All the #SAARC nations must come together and make Jammu & Kashmir a model of cooperation," she said. (RNA)