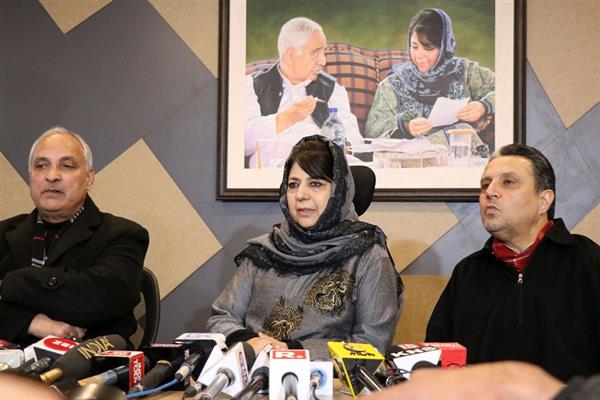 Srinagar: Peoples Democratic Party (PDP) president and former Jammu and Kashmir chief minister Mehbooba Mufti on Friday threatened a peaceful agitation if Governor grants divisional status to Ladakh and not to Chenab Valley and Pir Panchal.
She said both Chenab Valley and Pir Panchaal regions were more inaccessible and hilly areas.
Mehbooba also blamed Governor for taking briefs from hidden hands for implementing a hidden agenda despite knowing the sensitivities of issues in Jammu and Kashmir.
Addressing a press conference at her Gupkar residence in Srinagar, amid rumors about creation of administrative division for Ladakh, the PDP chief Mehbooba Mufti said, "We are not against division for Ladakh as we have already autonomous hill development councils in Ladakh and Kargil but if Ladakh is given a divisional status and Chenab Valley and Pir Panchal are neglected we will launch a peaceful stir against the Governors administration for such a discriminatory decision."
Alleging that Governor is taking controversial decisions in haste which he should have left for the next popular government to take, Mehbooba said, "We believed that Governor having a vast experience as a politician will deal cautiously with the sensitive issues but the way he is tinkering with the laws and the institutions shows that he is working on the dictations of some hidden hand on a hidden agenda."
Stating that Governor tried to change Jammu and Kashmir Bank into a Public Sector Bank and modify the Permanent Resident Certificate (PRC) law but had to reverse the decisions, Mehbooba said, "The repealing of Roshni act was a blow to the Pahari and Bakerwal community who were expected to reap benefits of this law but only richer could avail its benefits and when it came to Gujjars and Bakerwals the law was repealed by Governor in absence of a popular government."
When asked about the resignation of former finance minister Haseeb Drabu and threat to quit the party by Muzafar Hussain Baig, Mehbooba evaded queries and said, "People come and go. We were very sorry to see Drabu quitting as he was brought with love and affection by party founder late Mufti Mohammad Sayeed. I wish Drabu all the best."